Government to take up seaweed cultivation in mission mode
The aim is to achieve seaweed production at 11.2 lakh tones by 2025. Raised to that level, this vocation can give employment to 6-7 lakh people, particularly women.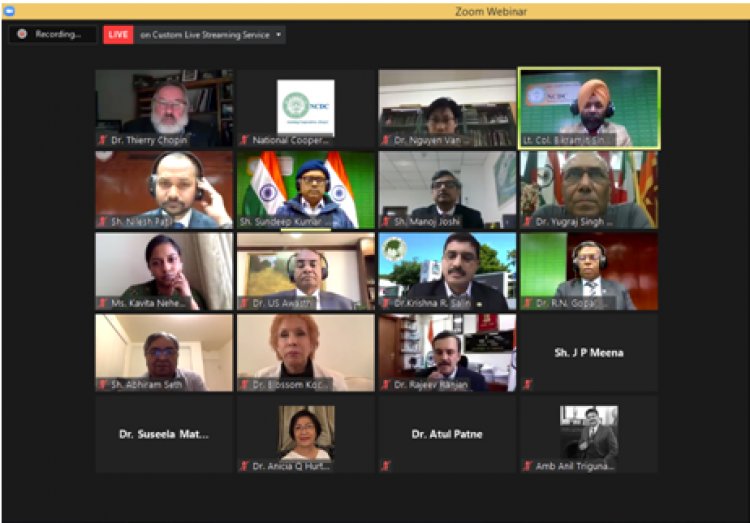 Not many are aware of the immense potential seaweeds have. These marine plants have so far been exploited in India on a small scale. The international market needs to be grabbed in a way like never before. If we are able to cultivate and market seaweeds, this will reap dividends in ways more than one. For, they are as much a source of money as an avenue for employment, including that of women.
An International Webinar on 'Seaweed Business by Cooperatives' was held on 28 January 2021. It was jointly organized by the Department of Fisheries, Ministry of Animal Husbandry and Fisheries, Government of India, Laxmanrao Inamdar National Academy for Cooperative Research and Development (LINAC)-NCDC (National Cooperative Development Corporation), Department of Agriculture, Cooperative and Farmers' Welfare, Ministry of Agriculture and Farmers' Welfare, Government of India and Network for the Development of Agricultural Cooperatives in Asia and the Pacific (NEDAC), Bangkok.
Introductory remarks were made by webinar coordinator, Prof Krishna R Salin, Director, NEDAC Bangkok, Thailand, who thanked Mr. Sundeep Nayak MD, NCDC for organizing the webinar at an appropriate moment. Nayak informed that the NEDAC comprises coastal countries participating in the webinar to deliberate on the potential and challenges in the seaweed farming on the coastal zones. Experts from countries like Vietnam, the Philippines and Canada and others participated in the international virtual event. Nayak also said that efforts are on to tie up with the Asia-Pacific countries to boost seaweed cultivation.
Dr. Rajeev Ranjan, Secretary, Department of Fisheries and chief guest of the Webinar made a presentation on "Seaweed Cultivation and Value Chain Development in India", where he gave in detail the action plan and strategy prepared by the Government to take up seaweed cultivation in a mission mode. The seaweed business has a huge international market with China, Japan and Indonesia grabbing 80% of the total share. Japanese kelp, Eucheuma and Gracilaria are the top species. Together, they constitute about 70% of the production. Most traded commodities are lever, agar agar, red seaweeds and Undaria pinnafitida (brown algae). India has a coastline of around 7,500 km, which can be potential seaweed farming zones. Currently, India's seaweed cultivation production is just about 20,000 tonnes, whose value is estimated to be around USD 500 million.
Dr Ranjan said that the government is very serious about the seaweed business, which has huge potential with the world production valued at around USD 12 billion. It is estimated to shoot up to USD 26 billion by 2026. It has the potential to transform the way of farming, he said. Some 844 species of seaweeds have been reported from the Indian seas, and their standing stock is estimated to be about 58,715 tonnes (wet weight). Among them, 221 species are commercially important and abundant along the Tamil Nadu and Gujarat coasts and around Lakshadweep and Andaman & Nicobar Islands.
Now, to spur the sector, the government has already allocated Rs. 637 crore for the cultivation of these nutrition-rich marine plants, as part of the Rs 20,050-crore central scheme Pradhan Mantri Matsya Sampada Yojana (PMMSY)—to be spent over the next five years, mainly as subsidy support. Intensive efforts will be made by the implementing agencies to prioritize the formation and promotion of FFPOs, support to cooperatives and women SHGs in the potential coastal areas in the country, under the scheme, said Dr. Ranjan.
The aim is to achieve seaweed production at 11.2 lakh tones by 2025. Raised to that level, this vocation can give employment to 6-7 lakh people particularly women, said the Secretary.
Each coastal State/UT will be asked to identify four entrepreneurs and support them with technical and financial sources while multiple seaweed banks would be taken up in maritime states/UTs in the coming years for key species.
Seaweed parks may be established in Tamil Nadu and Gujarat after working out feasibilities while Lakshadweep will be developed as a centre for the development of seaweed. NIOT and ICAR-CMFRI will undertake efforts for the development of seaweed culture in Lakshadweep.
Also, mapping of potential sites and cultivation will be promoted for native seaweed species like Gracilaria dura, G. edulis, Gelidiella acerosa and Sargassum wightii, said the Secretary.
The matter concerning the restriction on the cultivation of Kappaphycus species and the introduction of exotic germplasms will be addressed with priority in consultation with Union Environment Ministry and coastal State Governments and Union Territories, said the official.
Moreover, the business is gender-neutral. Women of the coastal communities can take up seaweed farming without much investment but looking for huge returns, Dr Ranjan said, adding that two institutions CSIR- CSMCRI and CMfRI are among research institutions providing the technical know-how in the sector. Seaweed farming crops get ready in 45 days, Dr Ranjan said.
Manoj Joshi, Additional Secretary of the Ministry of Food and Processing Industry, stressed focusing on a few clusters, to begin with, and ensure convergence of the schemes to scale up the production. He said his ministry was all for extending support to the seaweed-based food and in fact already had a scheme all-India Centrally Sponsored PM Formalisation of Micro food processing Enterprises Scheme (PM-FME Scheme) for providing financial, technical and business support for upgradation of existing micro food processing enterprises.
Dr. Thierry Chopin, Prof of Marine Biology, University of New Brunswick, Canada said how seaweeds, a key component of Integrated Multi-Trophic Aquaculture (IMTA), are providing important ecosystem services, which should be valued. Stating that 'sea-weeds are more than sea-food', he suggested that the value of the ecosystem services provided by the extractive components of IMTA systems will have to be recognized, accounted for and used as financial and regulatory incentive tools such as nutrient trading credits (NTC) than with carbon trading credits (CTC). For instance, he said, Nitrogen trading credits are between USD 1.134 and 3.401 billion, Phosphorus trading credits USD 51.82 million while Carbon trading credits are just merely at USD 29.15 million.
Dr. Blossom Kochhar, Chair, Blossom Kochhar Group, India dwelt on the usage of seaweeds in the cosmetics industry and their benefits, and opportunities in skincare products, including moisturizers, anti-aging, antioxidant, skin repair and regeneration, cleanser products.
Abhiram Seth of Aqua Agri, India, which works with more than 600 fisherfolk in the restricted districts of Tamil Nadu and cultivates at least 600-800 tonnes of seaweed per year, said that there is a huge scope and how his company has branched out to a various range of products from producing carrageenan, which is a binding, food-thickening and gelling agent for the food industry to producing bio-stimulants. He claimed that these can improve crop yield by 20 per cent
For her part, Kavita Nehemiah of Snap Natural & Alginate, which was established in 1979 and is one of the largest processors of natural seaweed-based products in India, too shared her experience in the seaweed business catering to food and pharma sectors and its socio-economic impact on the coastal communities. Seaweed farming is a labour-intensive process and generates employment at every level, primarily for women, she added.
Dr. Nguyen Van Nguyen, Dy Dir, Res Institute for Marine Fish, Vietnam focused on seaweed research-linked business in Vietnam, saying that there is a huge export market in Japan while the domestic market is growing at a fast pace. Regarding the future of the seaweed market, he said that his country has shifted from shrimp cultivation to seaweed, which is a sustainable food source.
Dr. Anicia Q Hurtado, University of the Philippines, Visayas, Philippines, talked about innovations in red seaweed cultivation while Dr. Yugraj Yadava, Director, Bay of Bengal Programme IGO, India gave insight into seaweed farming for industrial applications in India. He said that India is a net importer of seaweed products. To sum up, there is a scope in the domestic market both for increasing production and value addition. To achieve this, he suggested that cooperative focusing only on production and drying is unlikely to make enough money to grow. Hence, he suggested, the entrepreneurship will be in internalizing as much of the value chain as possible.
Dr. Atul Patne, Commissioner Fisheries, Maharashtra Government, said that Maharashtra too has started taking steps in this direction to harness the potential of seaweed. "Maharashtra state has a 720km coastline comprising seven coastal districts. Twelve talukas from four coastal districts have primarily been selected for seaweed cultivation in coordination with UNDP. A survey for the selection of suitable sites to cultivate seaweed needs to be carried out by Central Fisheries Organisation/Institutes immediately on priority," he said.
Dr Rajesh Gopal and Nilesh Patil from the NCDC presented the scenario in the country and how the government is promoting the 3C concept — Cooperative-Corporate Collaboration — along with industry houses like CII, Assocham, PHDCCI, ICC and others in the sector.