Govt allocates Rs 637 crore for promoting seaweed cultivation
The Government is very serious about seaweed as it has huge potential with world production valued at around USD 12 billion and estimated to shoot up to USD 26 billion by 2026. It has the potential to transform the way of farming.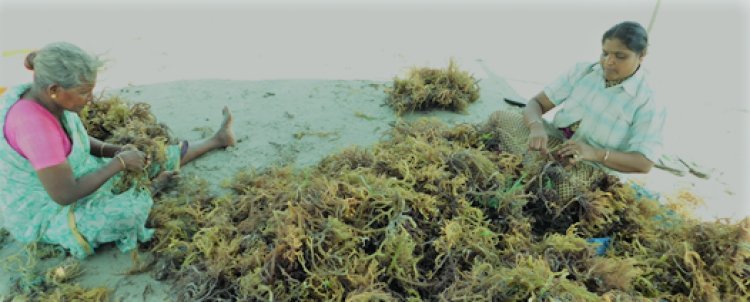 For centuries, seaweed harvesting has been part of coastal community culture across Tamil Nadu and parts of Gujarat. However, now realizing its potential, given that India is bestowed with around 7,500 km coastline, the Government is all set to take it to industrial scale to help the coastal communities have a sustainable livelihood as well as combat climate change threats.
In an interaction with a select group of journalists, Dr. Rajeev Ranjan, Secretary at the newly created Department of the Fisheries of the Ministry of Fisheries, Animal Husbandry and Dairying, told to journalists in an intraction. He said that the Government is very serious about seaweed as it has huge potential with the world production valued around USD 12 billion, which is estimated to shoot up to USD 26 billion by 2026. It has the potential to transform the way of farming, he said.
However, our share is measly, not even worth mentioning. According to some estimates, the world produces about 33 million tons of seaweed with China taking the lead followed by Indonesia and the Philippines. India produces about 20,000 tons.
In contrast, the country's potential has been estimated at a million tons, a fourth of it in Tamil Nadu alone. Raised to that level, this vocation can give employment to 6-7 lakh people, said the Secretary. What is in nature we are now propagating, said Dr. Ranjan to RuralVoice, and the focus is on the Gulf of Mannar.
Seaweed, also known as macroalgae, has major pharmaceutical application and nutrient value. In addition to providing food, seaweed cultivation can help decrease carbon dioxide on the surface of the sea and in the atmosphere, thus being helpful in carbon sequestration. Seaweed also absorbs dissolved nutrients from the water, which can decrease eutrophication caused by water pollution.
The application of seaweeds in human food, animal feed, pharmaceuticals, agriculture, cosmetics, production of bio-fuel, and wastewater management has been important for the growth of the commercial seaweeds market. They are often termed as the 'Medical Food of the 21st Century' due to their use in the treatment of goitre, cancer, bone-replacement therapy and cardiovascular surgeries. Dr. Ranjan said seaweed has its use as an emulsifying agent in ice cream, especially significant in a country like India where people are conscious about non-vegetarian food.
Besides, the business is gender-neutral. Women of the coastal communities can take up seaweed farming without much investment but looking for huge returns. Presently, around 25,000 people are involved in seaweed cultivation and the Government wants it to take to 4 lakh people in the next four years, Dr Ranjan told to RuralVoice, adding that two institutions CSIR-CSMCRI and CMfRI are providing the technical know-how in the sector. Seaweed farming crops get ready in 45 days, he said.
The Secretary said that the Government has allocated Rs 637 crore for the cultivation of these nutrition-rich marine plants, as part of the Rs 20,050-crore central scheme Pradhan Mantri Matsya Sampada Yojana — to be spent over the next five years, mainly as subsidy support.
Dr. Ranjan had last week inspected seaweed cultivation in the coastal areas of Mandapam and Rameswaram island and held discussions with stakeholders, particularly to industry, and SHGs to formulate a plan of action for the promotion of seaweed cultivation in the region.
He said that plans are on to take it up from traditional cultivation to industrial forum in a big way. In the last four months, the Department has sanctioned a few seaweed projects in Tamil Nadu, Gujarat, Odisha, Andhra Pradesh, Lakshadweep and Andaman while talks are on with Kerala. These are low-hanging fruits, he said, adding that a three-pronged strategy is being adopted at the production level, industrial level and marketing level. The idea is to produce and market it to industry, he added.
The seaweed production potential in India is estimated at 1,005,000 tons distributed in six states of India comprising 250,000 tons in Gujarat, 250,000 tons in Tamil Nadu, 100,000 tons in Kerala, 100,000 tons in Andhra Pradesh, 5,000 tons in Maharashtra and 300,000 tons in the Andaman and Nicobar Islands. In Tamil Nadu, a large number of factories in Madurai produce agar from seaweed. Agar is a jelly-like substance used as an emulsifier.
To help achieve this potential, the Fisheries Department has asked the National Cooperative Development Corporation (NCDC) to organize farmer-producer organizations from SHGs for supply and industry to scale up the seaweed cultivation.
This is in line with the vision of Prime Minister Narendra Modi, who has been emphasizing seaweed cultivation for fishermen and self-help groups (SHGs) along the coast to help boost their income.
In fact, much of India's coast is ideal for seaweed cultivation with suitable tropical weather, shallow waters and a rich supply of nutrients. In total, as many as 841 species of seaweed thrive along the Indian coast, though only a few are cultivated.
It is also a potential employment-generating and income-earning activity for the coastal fisherwomen. Cooperatives backed by institutional and financial support are helping the expansion of seaweed (Cooperatives/ Self Help Groups (SHG) model (mostly women)) in India.
Now, to deliberate on the challenges and potential in the Indian seaweed industry, an international webinar is being jointly organized by NEDAC, the Department of Fisheries, Government of India and the Laxmanrao Inamdar National Academy for Cooperative Research and Development (LINAC) of NCDC on 28 January 2021 from 10.30 AM to 1.30 PM IST on Zoom platform, also to be live-restreamed through Facebook Live and YouTube.
The aim is to bring stakeholders on one platform and to work towards forging alliances for the promotion of entrepreneurship in seaweed business through cooperatives. At the same time, the webinar will identify bottlenecks at various levels and will aim at evolving options.
While Mr. Sundeep Kumar Nayak, MD NCDC and Chairman, NEDAC will address the webinar, the Chief Guest will be Dr. Rajeev Ranjan, Federal Secretary, Department of Fisheries, India.
Mr. Manoj Joshi, Federal Addl Secy, MoFPI, India, will dwell on the Ministry of Food Processing Industry support for seaweed-based food while Dr. Thierry Chopin, Prof of Marine Biology, Univ of New Brunswick, Canada will talk about Seaweeds, a key component of Integrated Multi-Trophic Aquaculture (IMTA) providing important ecosystem services, which should be valued.
The other topics that would be taken up in the seminar will be Seaweed-based Sagarika for farmers by Dr. US Awasthi, MD IFFCO, India, Seaweeds in the cosmetics industry in India by Dr. Blossom Kochhar, Chair, Blossom Kochhar Group, India.
Others who are likely to participate include Ms. Kavita Nehemiah, Snap Natural & Alginate, India, Dr. Nguyen Van Nguyen, Dy Dir, Res Inst for Marine Fish, Vietnam, Dr. Anicia Q Hurtado, University of the Philippines Visayas, Philippines and Dr. Atul Patne, Commissioner Fisheries, Govt of Maharashtra, India, among others.
Some 844 species of seaweeds have been reported from the Indian seas. Their standing stock is estimated to be about 58,715 tons (wet weight). Among them, 221 species are commercially important and abundant along the Tamil Nadu and Gujarat coasts and around Lakshadweep and the Andaman & Nicobar Islands. Rich seaweed beds occur around Mumbai, Ratnagiri, Goa, Karwar, Varkala, Vizhinjam and Pulicat in Tamil Nadu and Andhra Pradesh and Chilika in Odisha.