NCDC's focus is on rural credit: Sundeep K Nayak
Sundeep K Nayak is the DG of the National Productivity Council (NPC) and the MD of the National Cooperative Development Corporation (NCDC). A 1988 batch IAS officer of the erstwhile J&K cadre, he has a long experience in the field of agriculture and cooperatives. He spoke on "Agricultural and Rural Prosperity Through Cooperatives and Farmers' Collectives" at the Rural Voice Agriculture Conclave and NEDAC Awards 2021 in New Delhi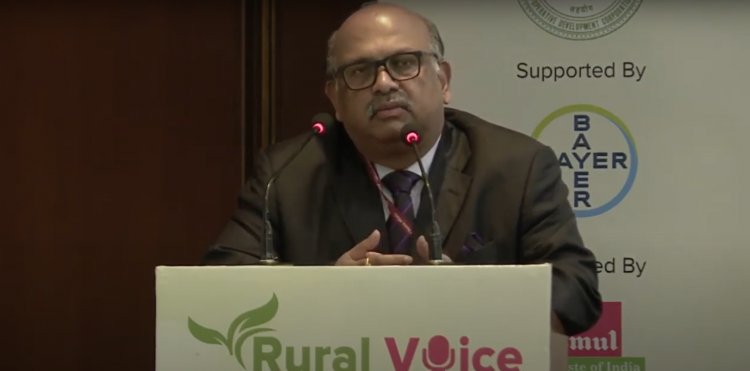 Sundeep K Nayak is the Director General (DG) of the National Productivity Council (NPC) and the Managing Director (MD) of the National Cooperative Development Corporation (NCDC). A 1988 batch IAS officer of the erstwhile Jammu and Kashmir (J&K) cadre, he has a long experience in the field of agriculture and cooperatives. He spoke on "Agricultural and Rural Prosperity Through Cooperatives and Farmers' Collectives" at the Rural Voice Agriculture Conclave and NEDAC Awards 2021 in New Delhi.
According to Nayak, in order to develop agricultural and rural prosperity, agriculture needs to be seen in totality along with its allied sectors and the government has to play a "facilitative role". We should therefore focus on "rural credit", rather than merely on "agricultural credit".
Nayak said NCDC's focus is on rural credit and there has been a rise in credit flow to cooperatives in the last few years. While credit flow stood at Rs 24,000 crore in the entire 2020-21 fiscal, it had already reached Rs 35,000 crore so far in the ongoing fiscal, he said. "But this is a tiny fraction of what the commercial banks lend." Both NCDC and NABARD have a big role to play in addressing the problem.
"NCDC has been supporting Rural Voice," Nayak said, "because primarily as a neutral platform it has tried to connect with farmers."
Besides rural credit, said Nayak, technology and productivity have a very important role in bringing about prosperity in agriculture. "We cannot depend only on ICAR and government institutions. There are several technology-based start-ups. We need to connect cooperatives with these start-ups" that are into innovative technology.
"NCDC has also been supporting Rural Voice Agritech Show for the past few months," said Nayak. "It has become a major communication medium to bring new ideas to the farmers."
Nayak further expounded on cooperation. "In a cooperative or farmers' collective," he said, "there was no owner or worker." This holds true for all sorts of such groups. Be it SHG (Self-Help Group) or FPO (Farmer Producer organization), these involve "group activity". Sahkarita, said Nayak, could become a major partner in advancing agriculture and rural prosperity.