Bajra with higher micro-nutrients gets global recognition
Research efforts on biofortified crops have got a shot in the arm with the Norman Borlaug Award being announced to Dr Mahalingam Govindraj, who is credited with developing the world's first biofortified variety of pearl millet or bajra named Dhanashakti in 2014.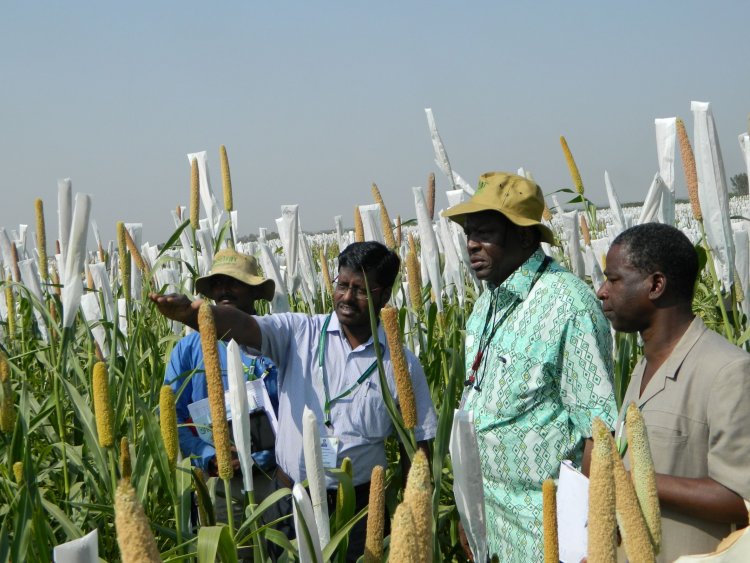 Biofortification of crops or developing varieties with the addition of nutrients that help meet the important vitamin deficiencies among people has been a major focus of agriculture scientists since the turn of the millennium.
The focus has been on the staple crops — rice, wheat and nearly a dozen more. The first biofortified variety of sweet potato with vitamin A was developed way back in 2004. Thereafter, hundreds of biofortified varieties of 12 different staple crops have either been released or are in testing phases in more than 60 countries across the world.
On August 30, research efforts on biofortified crops got a shot in the arm with the Norman Borlaug Award being announced to Dr Mahalingam Govindraj, who is credited with developing the world's first biofortified variety of pearl millet or bajra named Dhanashakti in 2014.
The Borlaug Award
Endowed by the Rockefeller Foundation, the $10,000 Norman Borlaug award is presented every October in Iowa, the US, to recognize the work of an individual scientist under the age of 40.
Incidentally, Dr Govindraj is the first Indian to win the annual prize, which was started in 2011. Coincidentally, that was the same year he started his research work on the biofortification of crops, especially the pearl millet.
"The award to me in the International Year of Millets 2023, as announced by the UN, is a recognition not just of my work but of researchers on the pearl millet crop of India. The entire crop community of the country should be happy," said Dr Govindraj expressing joy.
Based in Hyderabad, Dr Govindraj is a Senior Scientist for Crop Development at HarvestPlus and the Alliance of Bioversity International and CIAT from April 2021. He joined the International Crops Research Institute for Semi-Arid Tropics (ICRISAT) in 2007 and did most of his research work on pearl millet during his long tenure.
Challenge of overcoming malnutrition
The problem of malnutrition is quite a daunting one in India. According to estimates, over 50 per cent of women — 70 per cent of the pregnant ones — and 70 per cent of children below the age of three suffer from iron deficiency. Similarly, zinc deficiency is also significant among these groups.
It is well established that iron deficiency causes impairment in learning abilities, lowered work capacity, and pregnancy-related complications. On the other hand, zinc deficiency in children causes stunting and puts them at risk to diarrhoea, pneumonia, and can lead to death in extreme cases.
One of the strategies to address the challenge across all developing countries is considered to be the biofortification of crops. What it essentially means is to breed new cultivars with higher levels of micronutrients.
Developing of Dhanashakti
The ICRISAT in collaboration with the Mahatma Phule Krishi Vidyapeeth jointly developed a high-iron, high-zinc variety of pearl millet, called Dhanashakti, during 2011-13. It emerged as the first mineral biofortified product of any crop cultivar released in India.
Dr Govindraj was spearheading the research from the ICRISAT side as the Principal Investigator, Pearl Millet Biofortification. The entire research effort for pearl millet involves 26 partners — six from the national research systems and 20 private seed companies.
Dhanashakti has 71 mg/kg iron and 40 mg/kg zinc and was made available across the country in 2014. Nirmal Seed and State Seed Corporations in Maharashtra, Karnataka, Telangana, Uttar Pradesh, Haryana, Rajasthan etc. have been providing the seed to the farmers. At present over a lakh farmers are involved in growing the variety.
According to the World Food Prize, which announced the award, "About 200 grams of the Dhanashakti variety could provide about 80 per cent of the daily requirement compared to 20 per cent they would get from the regular varieties of pearl millet."
It is estimated that by 2024, more than 9mn Indians will be consuming the biofortified varieties of pearl millets leading to improved nutritional standards. Farmers in West Africa have also adopted new biofortified varieties since 2019. The African variety launched is named 'Chakti'.
Hybrids and climate-resilient crop
Simultaneously, Dr Govindraj's group developed a hybrid variety named ICHM 1201 of the pearl millet in 2015. It is being marketed by ShaktiVardhak Seed Company under its brand name 'Shakti 1201'. This hybrid has 75 mg/kg iron and 40 mg/kg zinc, but it has more than 30 per cent higher grain yield than Dhanashakti.
Since 2017, "I have changed focus to developing more hybrids. In the last few years, a total of 8-10 hybrids of pearl millet have been developed. Hybrid varieties are popular in India. With the availability of more varieties, the seed industry can grow and as millet picks up its place in the diet of people, the processing industry too will gain," explained Dr Govindraj.
Besides reducing iron and zinc deficiencies, pearl millet has started gaining attention as a 'climate change-resilient and smart food' crop on account of its high levels of tolerance to drought, heat and soil salinity etc., as well as high nutrition and being gluten-free, said Dr Govindraj.
India is the first country to have implemented a strategy to fix minimum standards for the biofortification of pearl millet. To reach this, more than 200 varieties developed in the country from 1998 were analyzed with an expert group of scientists from the ICAR, State Agriculture Universities and other stakeholders, says Dr Govindraj.
Dr Govindraj hails from a farmer family in Tamil Nadu. He did his Master's in Plant Breeding and Genetics from Tamil Nadu Agricultural University. At HarvestPlus he has been coordinating research work in Asia and Africa since 2021. In addition to pearl millet, HarvestPlus is spearheading global research initiatives on the biofortification of a dozen crops.
(The writer is an independent journalist who specializes in Science & Technology, Agriculture, Business and start-ups based out of Hyderabad.)