Cong strives to strike caste balance in new K'taka govt, Siddaramaiah sworn as CM
With the 2024 Lok Sabha elections in mind, the Congress has sought to play the caste card dexterously while appointing ministers. Senior Congress leader Siddaramaiah on Saturday was sworn in as the Chief Minister of Karnataka, while DK Shivakumar took oath as the only Deputy CM of the southern state at Kanteerava Stadium in Bengaluru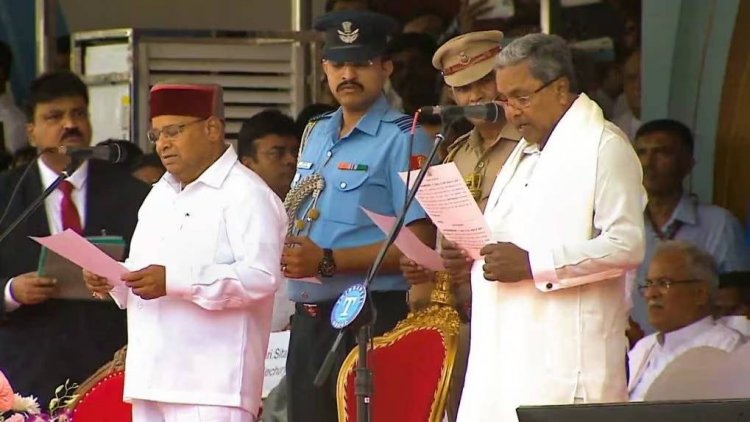 Siddaramaiah taken oath as new CM.
With the 2024 Lok Sabha elections in mind, the Congress has sought to play the caste card dexterously while appointing ministers. Senior Congress leader Siddaramaiah on Saturday was sworn in as the Chief Minister of Karnataka, while DK Shivakumar took oath as the only Deputy CM of the southern state at Kanteerava Stadium in Bengaluru.
Apart from Siddaramaiah and Shivakumar, other Congress MLAs sworn in as cabinet ministers in Karnataka are G Parameshwara (SC), K H Muniyappa (SC), K J George (Minority-Christian), M B Patil (Lingayat), Satish Jarkiholi (ST-Valmiki), Priyank Kharge (SC and AICC President M Mallikarjun Kharge's son), Ramalinga Reddy (Reddy), and B Z Zameer Ahmed Khan (Minority-Muslim).
Both the leaders were in Delhi till late Friday night discussing with the party's high command the names of ministers to be inducted into the new cabinet and the allocation of portfolios. The grand old party won 135 seats in the May 10 Assembly elections for the 224-member legislature.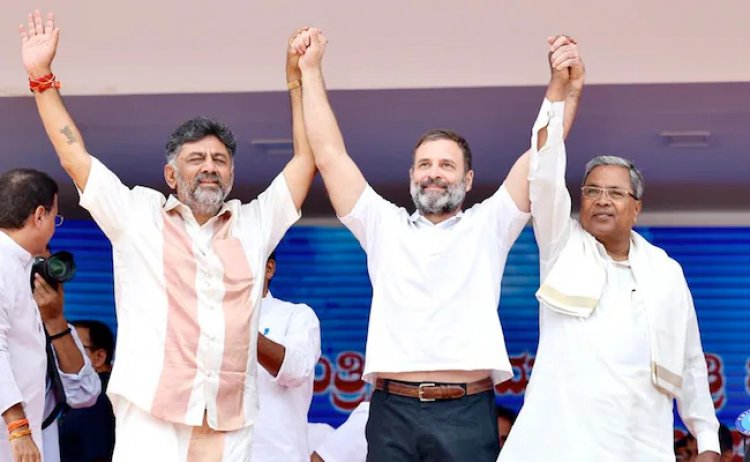 Some of the senior Congress leaders called for decisions on ministers to be based on the communities that strongly supported the party in polls. Hence, the grand old party's decision to appoint Shivakumar as the sole deputy CM of Karnataka has brought disappointment to several community leaders. DK Shivakumar belongs to the Vokkaliga community.
Karnataka Congress MLA G Parameshwara, a Dalit leader who earlier insisted on being appointed as deputy CM, on Friday said, "That is always there. Somebody will demand something, but that doesn't mean that it happens. That is why I said, some amount of sacrifice is required. So, it's okay. No problem."
"This is the time when we all have to work together. This is the time when we should forget our individual aspirations. This is the time when we should fulfill the promises made to people...As I said, the party is supreme. So, we need to look forward. There is the 2024 Lok Sabha election. We have to consider those things as well," he told the media.
The Congress has tried to give maximum representation to all regions of the state and sections including SCs, STs, OBCs, minorities, women, youth and Lingayats and Vokkaligas, the two prominent communities in the southern state, party sources said.