Laxmi & Saraswati make their mark on Int'l Women's Day
Laxmi Bai is a member as well as farmer group representative of Chirayu Women Crop Producer Company in Betul district of Madhya Pradesh. She is also a lead farmer, helping fellow women to adopt better production practices through demonstration and training. Saraswati Bai is the President of Sampurna Women Farmer Producer Company Ltd. The FPC works in 40 remotest villages of Shahpur Block of Betul district of MP.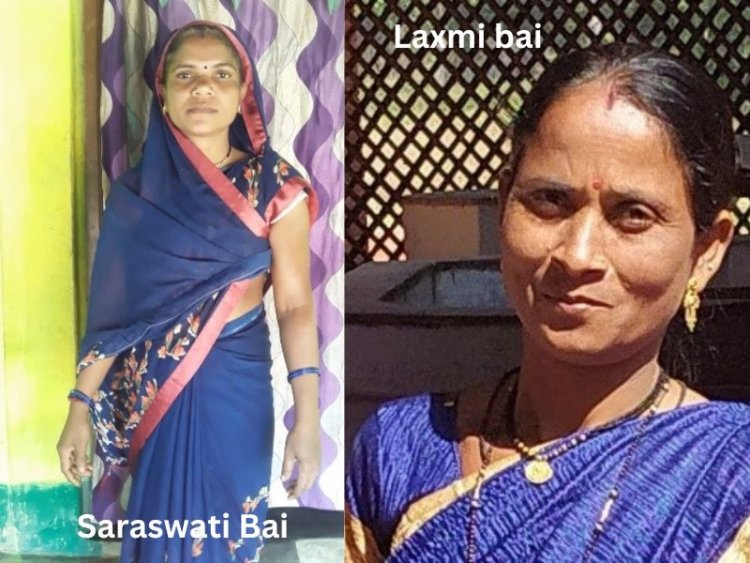 Laxmi and Saraswati are two women from a non-descript rural background, who have truly lived up to their names. Laxmi - the Goddess of Wealth - has indeed made women farmers prosperous, while Saraswati - the Goddess of Learning - has imparted lessons to them on adopting better production practices. These two women are lead farmers who have shot to limelight as active agents of socio-economic change and their success story has become quite significant on 'International Women's Day'.
Laxmi Bai is a member as well as farmer group representative of Chirayu Women Crop Producer Company in Betul district of Madhya Pradesh. She is also a lead farmer, helping fellow women to adopt better production practices through demonstration and training. Saraswati Bai is the President of Sampurna Women Farmer Producer Company Ltd. The FPC works in 40 remotest villages of Shahpur Block of Betul district of MP. The enterprise is serving little more than 1,500 women farmers to adopt better crop production technology particularly maize. In the last FY, the FPC was involved in MSP-based wheat procurement.
Corteva Agriscience CSR project has been supporting the enterprise to expand its business, for establishing post-harvest storage infrastructure and also in developing capacity of FPC functionaries as well as Board of Directors. These two women are an integral part of farm activities and their role is imperative in ensuring sustainable agriculture, says Corteva Agriscience, a global agriculture company, in a press release.
Rural women are responsible for the integrated management and use of diverse natural resources to meet daily household needs. Despite agriculture being the basis for food security, women are facing challenges in the field due to limited training, inadequate technical knowledge, and access to finance, leading to lower rates of agricultural productivity than male farmers.
Both Laxmi Bai and Saraswati Bai are women farmers who have holistically addressed the challenges faced by rural women by providing financial literacy, agronomy training, and family nutrition to maximise the opportunities of women in agriculture. They have led and helped other women farmers to adopt better production practices ensuring better yields and overall financial stability.
"We have created a business with a heart as most of the retailers are profit-oriented. We strive to help the farmers by giving the essentials for farming at credit and the farmers return the amount once they sell their yield. Moreover, in Chirayu, we don't give all the unnecessary chemicals for one disease or deficiency rather we give products according to the need. It was not an easy start when we started Chirayu. We rented a land and there was not enough space for the meetings but with the help of Corteva Agri Science funding we built a space for our community.
"Corteva has played an important role in seed replacement in our area. Earlier we used desi seeds which used to give us 2 quintals from one acre. But now with Corteva's improved seeds, we have started gaining 18-20 quintals per acre. However, it was not an easy change, the farmers were not ready to adopt the seeds but with the help of apt training and demonstration of the yield from my own land they agreed," Laxmi told Rural Voice.
Saraswati recalled, "The retailers in our community prioritise making a profit over supporting our farms. Every time a farmer goes to their shop to buy input or to sell, their ultimate goal would be to rob us and put us into an endless cycle of debt. However, via the advancing agriculture training, we realised that the first step in raising the income of our fellow farmers is to open up shops where the farmer's well-being and knowledge-sharing are prioritised alongside the business. Sampurna has been and is the main node for the changes that we have made in our area," she shared with Rural Voice. Sampurna started by renting a small piece of land and collectively arranging all the needs of farmers
Meanwhile, FMC India is also working on a program to build capability among Indian women in agriculture to empower them and make them efficiently contribute towards nation building. The initiatives by FMC are aligned with the UN's Sustainable Development Goal of promoting Gender Equality. FMC India says women account for more than 30 per cent of FMC global workforce presently. FMC in 2021 announced the company's aim to achieve 50/50 gender balance across all regions and job levels by 2027. FMC has doubled the female talent hiring since 2020.
Under the Science Leaders Scholarship Program every year, 20 scholarships will be awarded to 10 students pursuing PhDs and another 10 students pursuing MSc studies in agricultural sciences. FMC will work directly with the universities to identify their brightest students and groom their keen interest and passion for science and research.
The program has been initiated with G.B. Pant University of Agriculture and Technology, Punjab Agricultural University, Tamil Nadu Agricultural University (TNAU), Professor Jayashankar Telangana State Agricultural University and few others.
50 per cent of the scholarships has been earmarked for female candidates to encourage more women in India to pursue a career in agricultural sciences and research. This is in line with FMC's ambition to provide equal opportunities for both men and women and create a diverse and inclusive workforce. This will also be acting as a motivating force to bring in more female participation in STEM (science, technology, engineering or math).
Project MadhuShakti is a flagship program of FMC India designed to develop entrepreneurship among rural women through beekeeping, as a means to generate additional sustainable income for their families and raise their living standard. It is currently running in collaboration with GB Pant University of Agriculture and Technology. The project has been successfully able to train 75 master trainers (women farmers) in this skill since its launch in April last year.
The project is designed to be implemented in three years, around the rural area of Uttarakhand, located in the foothills of the Himalayan Mountain range, where there is an abundant source of natural herbs and flora useful for honey production. Approximately 53 per cent of the population in Uttarakhand lives in hills and mountains, out of which 60 per cent falls below the poverty line.
As part of MadhuShakti, rural women are selected from Sitarganj, Kotabagh, and the towns of Almora and Ranikhet and are trained in beekeeping. The produce from the farmers' beehives is to be procured through the university's Honeybee Research and Training Centre (HBRTC) through a revolving fund set up to facilitate payment to farmers and market products from the hives.
The project is also closely monitoring pollinator behaviour, generating a wealth of scientific knowledge that will be benefiting beekeepers across the country. This will help farmers undertake intensive agriculture while safeguarding the pollinators such as honeybees. The success of Project MadhuShakti aims to inspire more women farmers in the country to adopt beekeeping as an entrepreneurial business
The increase in the density of pollinators in Uttarakhand is expected to translate into an increase in pollination rate and growth of biodiversity, which supports agricultural productivity. Uttarakhand currently produces only 12,500 metric tons of honey. This figure is expected to grow significantly under the aegis of a program like MadhuShakti.
FMC India has recently launched a campaign dedicated to supporting women talent garner employment and career building opportunities in Agri Input space. The campaign will entail various workshops, webinars and networking opportunities which will allow them to learn, connect and grow themselves in the space. The initiatives will be carried out in association with various industry stakeholders, NGOs and media houses.