Vezlay at 15th edition of India Food Forum
It will offer two highly innovative soy products — Plant-Based Egg Bhurji and Vegan Shawarma — at the 15th edition of the India Food Forum. The plant-based products are loaded with healthy proteins and dietary fibre. And they taste much better than their non-vegetarian counterparts.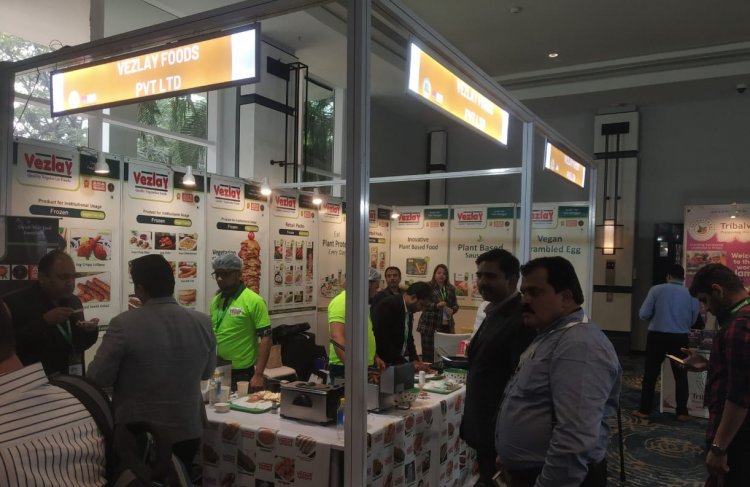 New-Delhi/Mumbai
Vezlay Foods, a manufacturer of plant-based protein food products, has participated in the 15th edition of the India Food Forum to be held at The Westin Mumbai on 7­–8 December 2022 with its two new products – Plant-Based Egg Bhurji and Vegan Shawarma.
A regular participant at trade shows and exhibitions across the length and breadth of the country, Vezlay recently participated in the India International Trade Fair (IITF) at Pragati Maidan, New Delhi, from 14 to 27 November 2022. This was a huge success.
The popular vegetarian food brand relies on innovation to offer a huge portfolio of plant-based mock meats such as Plant-Based Burgers, Vegan Sausages, Soya Seekh Kabab, Shami Kabab, Plant-Based Nuggets and Soya Chospticks, among others. Plant-based proteins provide a host of health benefits like lowering cholesterol, managing blood sugar levels, and aiding in weight loss besides reducing environmental impact.
Speaking about their participation in the upcoming Food Forum, a highly enthusiastic Amit Bajaj, Owner and Founder of Vezlay Foods, said, "This time around, we plan to provide more options to our vegan and vegetarian customers with two highly innovative entrants to our list of healthy plant-based options – Plant-Based Egg Bhurji and Vegan Shawarma."
Vezlay's Egg Bhurji or Vegan Scrambled Egg is a healthy breakfast option with loads of fibre and smart protein. It is way more hygienic than poultry eggs. Adding a dash of oil and some chopped vegetables results in a taste just like the typical non-veg egg recipe.
The manufacturer's Vegan Shawarma is power-packed with healthy nutrients and is a cruelty-free version of the much-loved Chicken Shawarma worldwide. It can easily be prepared by defrosting and cooking it to enjoy the fresh taste, wrapped in flat bread with some sauces.
"We are here to show the power of plant-based protein to one and all. I am sure you will be thrilled with the perfect combination of health and taste and if you are looking to give up on meat, incorporating Vezlay products is your first step towards it," Bajaj added.