Special edition of Rural Voice — a collectors' issue
The special edition of Rural Voice was released at the Rural Voice Agriculture Conclave and NACOF Awards 2022 in New Delhi on the occasion of Kisan Diwas in the presence of agriculture experts, agro-scientists, representatives from the farming community, political leaders and journalists. It is a highly informative bilingual magazine carrying articles by erudite scholars and experts from various fields. It has contributions from, among others, T Nandakumar, Dr RS Sodhi, Arun Kumar, Dr Biswajit Dhar, Dr Mahi Pal, Dr RS Paroda, Siraj Hussain, Shalini Bhutani, Dr DN Thakur, Prakash Chawla and Harvir Singh.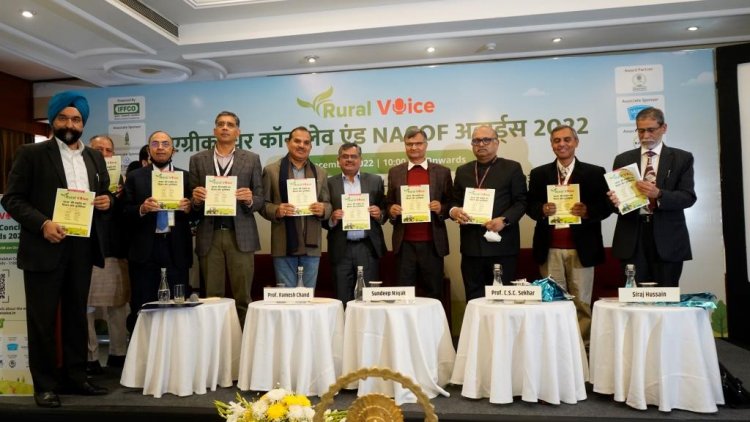 Rural Voice, a digital news platform, primarily focuses on agriculture and rural sectors. It seeks to deliver news and analytical content relevant to Bharat in both Hindi and English across text, audio and video formats.
A platform for Bharat's producers, Rural Voice is an independent news and current affairs platform that will inform, engage and empower our rural economy stakeholders. There is a dire need to strengthen knowledge sharing between agricultural scientists/researchers, the input industry and the farming community. The use of new media and digital platforms can serve as a powerful connectivity tool in this regard. Rural Voice helps leverage the growing mobile internet penetration – and also increasingly tech-savvy farmers themselves – to fill the information gaps for Bharat.
On the occasion of its second anniversary, Rural Voice brought out a highly informative bilingual magazine carrying articles by erudite scholars and experts from various fields.
Stepping into its third year, the digital platform that seeks to bridge the gap between the government and the farming community, pooled authors from diverse sectors to bring out a collector's edition.
In his editorial comments, Harvir Singh, Editor-in-Chief, Rural Voice, points out that farmers suffered a huge financial loss due to the ban on the export of wheat. He further points out that there was a lack of coordination between agriculture and food ministries which impacted in declining production and cuts in public procurement. He also said that due to this, the prices could not have been better for wheat farmers, denting India's image as a reliable exporter. He further adds that regarding the farm laws brought out to implement reforms in agriculture marketing, the Government has made a U-turn in its policy direction.
In his article 'India needs a food systems approach', T Nandakumar, Former Secretary, Ministry of Food and Agriculture, rightly states that India needs a unique tailor-made food system approach as per its requirements. He also mentions that food security initiatives are based on intensive production, extensive procurement and efficient distribution. He further adds that one global system will not work in the world; one single system may not work in India as well. Indian food systems are unique for their diversities of production, consumption, trade, cultural and environmental challenges. He further suggests that India's food system needs to draw upon global best practices and redesigned accounting for regional variations and innovations.
Dr RS Sodhi, MD, GCMMF (Amul) and President, Indian Dairy Association, in his article 'India: Dairy to the world', mentions that the total value of milk production is more than that of pulses, wheat and paddy put together. India boasts its Atmanirbharta (self-reliance) in the dairy sector along with many other sectors. He adds that India can position itself as "dairy to the world" with the help of professional experts and the latest manufacturing technologies. India will not only remain the largest dairy nation in the world but will also ensure the health, nutrition and wellness of people across India globally, thereby ensuring prosperity and remunerative livelihood for Indian dairy farmers.
Arun Kumar, Retd. Professor of Economics, JNU, highlights in his write-up 'The marginalized Indian rural economy' that the employment elasticity of agriculture has dropped to zero and due to a lack of adequate non-farm jobs, there is a substantial rise in disguised unemployment. He even points out and explains in detail the challenges being faced in agriculture. He rightly mentions that if incomes rise for the poor, consumption will increase.
In his comments on 'G-20: Priorities for India in agriculture', Dr Biswajit Dhar, Professor, Centre for Economic Studies and Planning, School of Social Sciences, JNU, mentions that India has assumed the Presidency of G-20, where one of the agenda would be the global supply of food, fertilizers and medical products. He further mentions that re-purposing farm subsidies is vitally important for the development of resilient and sustainable agricultural systems.
Dr Mahi Pal, former Indian Economic Service (IES) officer and President, Karpa Foundation, mentions in his article on 'Rural governance – Top to bottom and bottom to top' that for effective governance, the mess at the local level has to be cleaned at the top and bottom levels, otherwise all activities at local levels will be 'business as usual'.
In his article on 'Release of GM mustard – A progressive decision', Dr RS Paroda, Chairman, TAAS, former DG, ICAR and Secretary, DARE and former President, Indian Science Congress, highlights that the production of GM mustard, GM soyabean and GM maize would be a progressive decision to increase both the productivity and profitability of these crops and to double the farmers' income.
Siraj Hussain, former Secretary, Ministry of Food Processing and Ministry of Agriculture and presently Advisor, Food Processing, FICCI, points out in his article 'Food losses and wastage contribute to food insecurity' that the quality of warehousing in most States must improve to reduce food losses and wastage. He mentions that Government policies and initiatives can only help in reducing food losses but in order to reduce food wastage, the public at large is responsible.
In her feature on 'FTAs, rural India and farmers', Shalini Bhutani, Legal Researcher and Policy Analyst, points out that agriculture policymakers and trade negotiators alike need to look into complementary policies to reduce the adverse consequences of liberalization through FTAs, particularly on vulnerable populations. She also mentions that India is negotiating several FTAs with many developed countries with a belief that India's agriculture will be well served by seeking access to foreign markets for its agriculture products.
Dr DN Thakur, National President, Sahakar Bharati, in the article 'Food system management through cooperative' advises that the Government should recognize that cooperatives are the most appropriate institutions to address some of the identified priority areas of concern like food security, employment, poverty reduction and financial inclusion. He further suggests setting up a National Cooperative Food Grid (NCFG) and also that every village should have one agriculture cooperative to run and manage entire economic activities on cooperative principles.
In his expert comments, Prakash Chawla, a New Delhi-based independent journalist, mentions in his special feature 'Agriculture sector doing heavy lifting in difficult macro situation' the adverse impacts of the Covid pandemic and the Ukraine-Russia war on the global supply chain. He mentions that the two factors which helped India to navigate the turbulent weather are our service sector and our resilient agriculture. He further adds that agriculture has a huge second-round effect on transport, automobiles and chemicals, among others, in boosting their demand and cites that the record increase in tractor sales in Oct-Nov 2022 has got a demand push from farmers.
The special edition of Rural Voice was released at the Rural Voice Agriculture Conclave and NACOF Awards 2022 in New Delhi on 23 December 2022 on the occasion of Kisan Diwas in the presence of agriculture experts, agro-scientists, representatives from the farming community, political leaders and journalists. The occasion was graced by Union Minister of State for Fisheries, Animal Husbandry and Dairying Sanjeev Kumar Balyan.