Govt raises farm credit target by 11 pc to Rs 20 lakh crore for FY24
The government on Wednesday announced an 11 per cent hike in agriculture credit target to Rs 20 lakh crore for the next fiscal with focus on animal husbandry, dairy and fisheries, a moved aimed at providing higher farm loans at a subsidised rates to the farming community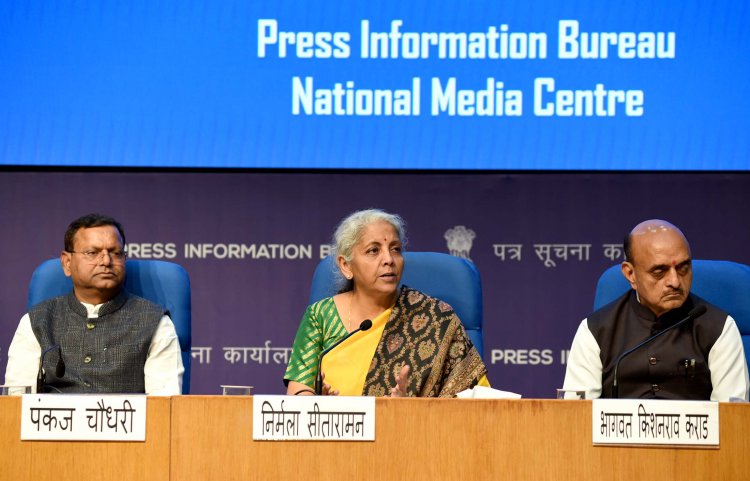 The government on Wednesday announced an 11 per cent hike in agriculture credit target to Rs 20 lakh crore for the next fiscal with focus on animal husbandry, dairy and fisheries, a moved aimed at providing higher farm loans at a subsidised rates to the farming community.
Among other big ticket announcements for agriculture and allied sector, finance minister Nirmala Sitharaman -- in her budget speech -- said the government will launch a new sub-scheme of Pradhan Mantri Matsya Sampada Yojana with an investment of Rs 6,000 crore to improve value chain efficiencies and expand the fishery market.
Customs duty on key inputs for domestic manufacturing of shrimp feed will also be reduced to promote export of marine products, she said.
For adoption of natural farming, the FM said the government will facilitate 1 crore farmers for this purpose and will also set up 10,000 Bio-Input Resource Centres for creating a national-level distributed micro-fertilizer and pesticide manufacturing network.
Further, the government will incentivise state governments and Union Territories under the Pradhan Mantri Programme for Restoration, Awareness, Nourishment and Amelioration of Mother Earth (PM-PRANAM) to promote alternative fertilizers and balanced use of chemical fertilizers.
That apart, the government will launch an Atmanirbhar Clean Plant Program to boost availability of disease-free, quality planting material for high value horticultural crops with an outlay of Rs 2,200 crore, she said.
To encourage agri-startups by young entrepreneurs in rural areas, the FM said the government will set up an Agriculture Accelerator Fund (AAF). A digital public infrastructure for agriculture will also be built to enable inclusive, farmer-centric solutions.
To make India a global hub for millets, also called "Shree Anna", the FM said, Hyderabad-based Indian Institute of Millet Research will be supported as the Centre of Excellence for sharing best practices, research and technologies at the international level.
India is the largest producer and second largest exporter of millets in the world. The country grows several types of millets such as jowar, ragi, bajra, kuttu, ramdana, kangni, kutki, kodo, cheena, and sama.
These have a number of health benefits, and have been an integral part of our food for centuries. I acknowledge with pride the huge service done by small farmers in contributing to the health of fellow citizens by growing these 'Shree Anna', she added.
Sitharaman said, "The agriculture credit target will be increased to Rs 20 lakh crore with focus on animal husbandry, dairy and fisheries." The agricultural credit target is Rs 18 lakh crore for the current 2022-23 fiscal. The government has been increasing the credit target for the farm sector every year.
Normally, farm loans attract an interest rate of 9 per cent. However, the government has been providing interest subvention to make available short-term crop loan at an affordable rate and help boost farm output. The government is providing a 2 per cent interest subsidy to ensure farmers get short-term farm loans of up to Rs 3 lakh at an effective rate of 7 per cent per annum.
To enhance coverage of small and marginal farmers in the formal credit system, the RBI has decided to raise the limit for collateral-free agriculture loans from Rs 1 lakh to Rs 1.6 lakh. The interest subvention is given to public sector banks, private lenders, cooperative banks and regional rural banks (RRBs) on the use of their funds and to Nabard for refinancing RRBs and cooperative banks.
To enhance the productivity of extra-long staple cotton, the FM said the government will adopt a cluster-based and value chain approach through Public Private Partnerships (PPP). Collaboration between farmers, state and industry for input supplies, extension services, and market linkages will be encouraged.