Challenges of Agricultural Marketing Reforms
Policy-making requires wide consultative processes which involve all stakeholders. In the absence of a due process and the involvement of stakeholders, any policy decision will be seen as doubtful.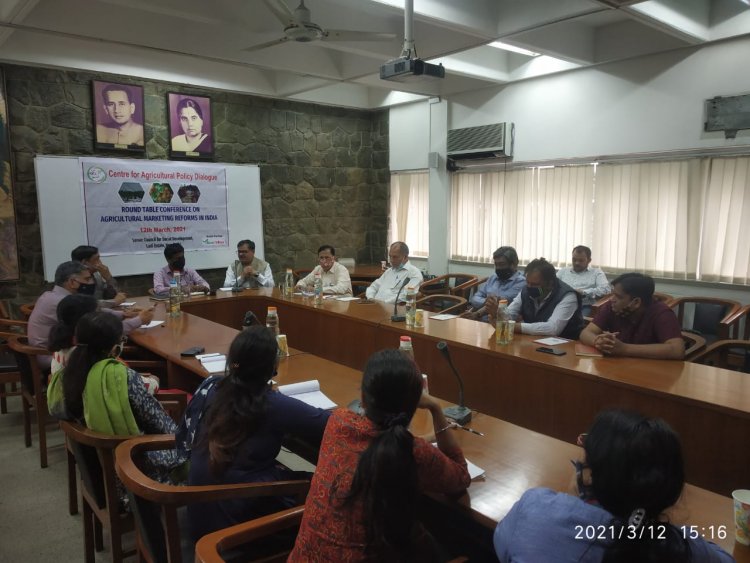 Marketing reforms in the agriculture sector is the need of the hour to make it a remunerative livelihood activity for farmers of the country, who constitute almost 70 per cent of the population. But this needs to be made through a wide consultation process involving all stakeholders, particularly the farming community. Reforms made by the government in the recent past may be partly good for the farmers, but the message these have sent to the farmers is not very good. And that is why a large section of the farmers is protesting the three central laws brought by the central government to reform agricultural marketing.
Another issue — in fact, the most prominent one — which has taken a central position in the ongoing farm debate is the minimum support price (MSP) for agricultural produce. Whether MSP should apply to all crops is a moot question. Another point of contention is whether a legal guarantee should be given by the government that nobody can buy agricultural produce below MSP. But most of the debaters and experts on the agriculture sector agree on one point that the terms of trade are against agriculture and not sustainable in the long run. These must be reversed through a comprehensive agriculture policy and by creating a required policy environment to achieve this objective.
These are the thoughts that came up in a round table conference on 'Agricultural Marketing Reforms in India' organized by the Centre for Agriculture Policy Dialogue (CAP) at the Council for Social Development seminar hall on Friday, 12 March. It was attended by Dr T Haque, former Chairman, Commission for Agriculture Cost and Prices (CACP), and Chairman of CAP; Prof. Ashwini Mahajan, Co-convenor, Swadeshi Jagaran Manch (SJM); Ajay Vir Jakhar, Chairman, Punjab State Farmers and Farm Workers Commission and Chairman Bharat Krishak Samaj; Naresh Sirohi, National Vice President, BJP Kisan Morcha; Prof. Biswajit Dhar of JNU; KC Tyagi, former Member of Parliament (Rajya Sabha) and senior leader JD(U); Prof. Nitya Nand, Director, Council For Social Development, Dr. D.N. Thakur, Former Deputy Managing Director NCDC and others who work in the area of agriculture economy and policy area.
Introducing the theme of the round table, Dr T Haque said that there was a felt need for agricultural marketing reforms in India because of several inadequacies and imperfections in the existing agricultural marketing system. The new Union farm laws are aimed at removing some of the marketing problems of farmers in ensuring improved market access and getting remunerative prices for their produce. However, there is scope for improvement. Hence, the Government should suo moto amend the laws, especially if this helps end the present agitation by the farmers. The amendments should provide for a uniform regulatory mechanism for trade within and outside Agriculture Produce Market Committees (APMCs), improving enforcement and dispute settlement mechanism, especially for contract farming, prevention/regulation of cartelisation by traders and implementation of duly fixed MSP coupled either with price deficiency payment or with farm income insurance, covering both yield and price risk (which will replace both MSP and crop insurance).
Ajay Vir Jakhar raised the point of deficiency in the policy-making process and the policies for the agriculture sector and farmers. He emphasized that one of the first tasks was that we should learn how to make policies and what the correct process to make policies is. Policy-making requires wide consultative processes which involve all stakeholders. In the absence of a due process and the involvement of stakeholders, any policy decision will be seen as doubtful. The main reason why farmers are opposing the new farm laws is that the government did not consult farm representatives before bringing in these laws. Jakhar said that there should be a wide discussion on the MSP issue and its future in Indian agriculture.
Prof.Ashwini Mahajan said, there is a need for innovative ways of price support to farmers, by using insurance, technology and warehouse receipts as instruments.
Naresh Sirohi said that the current agitation of the farmers is rooted in deep economic distress faced by farmers, the unfavourable agricultural terms of trade being the main reason. Therefore, legal assurance for MSP, based on cost plus 50 per cent margin will be the key way forward to end the farmers' agitation.
Prof. Biswajit Dhar said, farmers are supported by the government in all countries of the world. In a country like India, where above 50 per cent population depend on agriculture for livelihood, the need for public support to farmers is even greater. However, agricultural marketing reforms address the problems of farmers only marginally. There is a need for comprehensive agricultural policy reforms and agricultural policy for farmers' welfare.
Dr DN Thakur emphasized the need for farmers' collectives. He said farmers should form independent co-operatives to get a better deal in market-driven agriculture. But such cooperatives should be free from dependence on government and public regulation.
Harvir Singh, Editor-in-Chief, ruralvoice.in, raised the point of a legal guarantee of MSP for agricultural produce and suggested that the corporate sector should come forward for this. Farmers must get at least the cost of the production and some profit over cost to sustain themselves. Companies are making a super profit on food products but do not want to share it with the farmers by paying them a price that is at the level of MSP or above it. When milk cooperatives and even private companies in the dairy business are sharing up to 70 per cent of the consumer price with dairy farmers, why are other food companies not coming forward to increase farmers' share in the consumer price for their final products? A legal guarantee on MSP to farmers does not mean that the entire marketable surplus will be bought by government agencies — this is a misconception that needs to be cleared. Farming, as of now, is a loss-making proposition and is not sustainable. It requires to be made profitable and for this comprehensive policy changes are needed; only marketing reforms cannot resolve the ongoing farm crisis.