SKUAST paving way for major transformation in agriculture in J&K
According to Prof. Sharma, J&K is very conducive to diversification. It has such a climate condition that whatever can be grown anywhere in the world can also be grown here. The climate here is sub-tropical, temperate, dry desert and cold desert. Lavender, lemongrass, saffron, olive, medicinal plants, spices and caraway seeds can all be grown here — something that is not possible in states like Punjab and Haryana. The landholding level of the farmers here is less than the national average. It is about half a hectare. "In such a case we need to think about low-volume, high-value products. Specialty agriculture is also in demand here, but we can't fulfill it."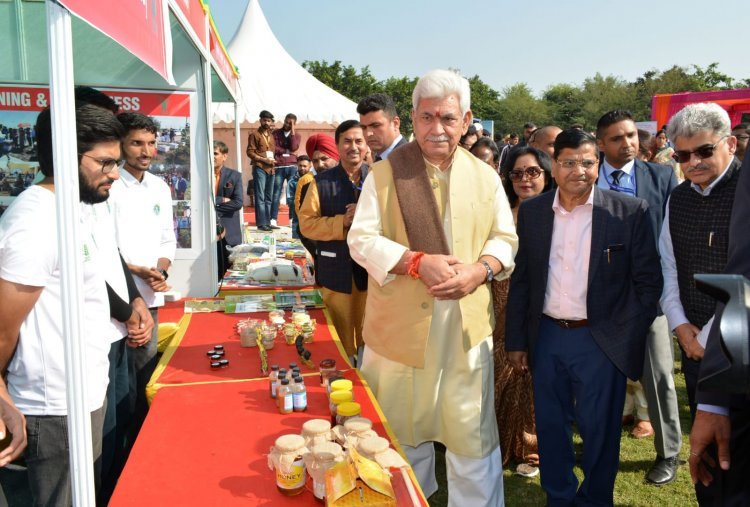 SKUAST Chatha Campus, Jammu
The basis of specialized agriculture is being prepared in Jammu and Kashmir (J&K). New initiatives are being taken here in J&K in the sectors of high-valuation horticulture, medicinal plants, crops useful for food processing, crops grown in various agro-climates, dairy and fisheries. Besides integrated farming and natural farming, work is also being done towards harnessing the possibilities in dairy, biotechnology and fisheries. And it is the Sher-e-Kashmir University of Agricultural Sciences and Technology (SKUAST) that is scripting the story for this new image of the agriculture sector in J&K.
In my two-day visit to the university campus and the successfully organized Krishak Mela (farmers' fair), I got to see all this that I have begun my report with. I said to Prof. JP Sharma, Vice Chancellor of the university, "Your university is doing innovative work in the field of agricultural education, research and coordination with farmers and entrepreneurs. This is not only a step towards transitioning from youthful thinking to maturity but also a major endeavour towards realizing the potential of the J&K agriculture sector."
The theme for the Krishak Mela organized November 17-21 was "Agricultural Diversification for Self-Reliant India". The fair has emerged as an excellent medium to understand the activities of the university. The agri start-ups, FPOs, entrepreneurs, farmers and students from the agricultural management and technology departments of the university participating in the fair prove by means of what they do the importance of the potential of agriculture in the state and that of better farm income through value addition. This was not a farmers' fair in a big city or in an agricultural university with an established identity, yet I felt the fair to be vibrant. Its participants, who consisted mostly of the youth, were making it successful.
Besides the presence of farmers and discussions and presentations on important topics in the fair, a lawn competition and a competition among the ponds and water bodies in the region were organized to involve the non-farming class in the fair. The cultural and sports competitions acted as a bridge between the Krishak Mela and the common urban people.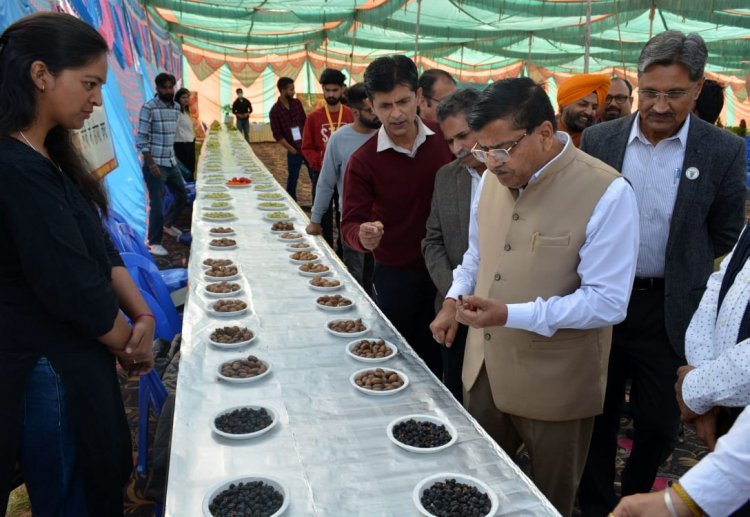 Speaking to Rural Voice, Prof. Sharma said, "MoUs were signed with various departments and institutes on this occasion. But our effort is that these MoUs should not remain a mere formality on the day of signing. Rather, they should be functional so that the thought and purpose behind these agreements are implemented at the ground level. Only then will the farmers and the agriculture sector be benefited."
Prof. Sharma has formed FPOs to work on value addition. With the university preferring to go for specialty agriculture rather than conventional crops, new possibilities are opening up. These include the possibilities of the cultivation of saffron in Kishtwar besides Pampore and that of other varieties like walnut. Since the average landholding of the farmers is small, it is necessary to promote crops that fetch higher earnings from smaller plots. Besides, all sorts of agro-climates are present here. This is a state with unique features.
Exhibiting an integrated agriculture model prepared in one hectare, Dr SK Gupta, Director Extension of the university, said, "We have prepared this practical model that shows qualitative changes in farmers' income. Besides paddy and wheat, spices like turmeric, crop fodder, fruit-bearing plants like mango and guava, fisheries, poultry, dairy farming and biomass have been used as input in it. This farm is fully organic. The farmer can earn better through it due to reduction in input costs and getting a round-the-year income."
Speaking to Rural Voice about the new initiatives and endeavours of the university, Prof. Sharma said, "An agri start-up ecosystem is being developed here. In view of this, we are emphasizing diversification, processing, value addition, branding and marketing. We have signed MoUs with several institutes. Manu Krishi is a start-up of one of our B Tech students that is working on animal feed. We are signing an MoU with it. He has trained at our place. We shall buy quality products from it at market prices on a priority basis."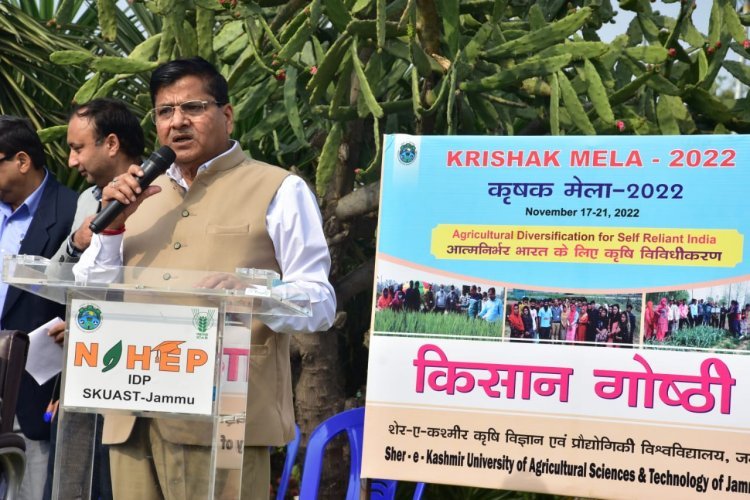 Prof. Sharma further said, "We have signed an MoU with the Indian Institute of Integrated Medicine (IIIM). We have an agreement with Kansas University. We are in an age of convergence, not of isolation. Agriculture is a sector that needs convergence most. We have opened our doors to other departments. Other universities can also use our labs. We will implement the UGC provision for Professor of Practice in our university and involve such farmers as are experts in their fields. They will be able to educate our students. We will award Ph.D. degrees to such farmers in the next convocation."
According to Prof. Sharma, J&K is very conducive to diversification. It has such a climate condition that whatever can be grown anywhere in the world can also be grown here. The climate here is sub-tropical, temperate, dry desert and cold desert. Lavender, lemongrass, saffron, olive, medicinal plants, spices and caraway seeds can all be grown here — something that is not possible in states like Punjab and Haryana.
The landholding level of the farmers here is less than the national average. It is about half a hectare. "In such a case we need to think about low-volume, high-value products. Specialty agriculture is also in demand here, but we can't fulfill it."
Prof. Sharma said, "This university had two faculties — Agricultural Sciences and Veterinary Science. We have added new faculties. Talks had been going on about adding new faculties, but the Lt Governor has given approval to this. The faculties of Agriculture Engineering, Dairy Technology and Horticulture & Forestry have been added and students have also been admitted to these. It was necessary for this region. There was no horticulture here. We have also started MSc (Fisheries). Agribusiness has a big scope here. For this, the Board has also approved the Institute of Agribusiness and the Institute of Biotechnology." Thus, the university has carved a place for itself in North India and it is a matter of great pride for the Jammu region.