Brainstorming meet on agri, rural prosperity by Rural Voice, Socratus Foundation
To promote participation of farmers and villagers in framing policies on agriculture and rural sector, a day-long event on 'Agenda for Rural India' was organised by the Rural Voice, a media platform dedicated to agriculture and rural economy, and Bengaluru-based Socratus Foundation. The main objective of the program was to prepare a national agenda for policy changes by roping in farmers and villagers so that social and economic gap between the village and the city is reduced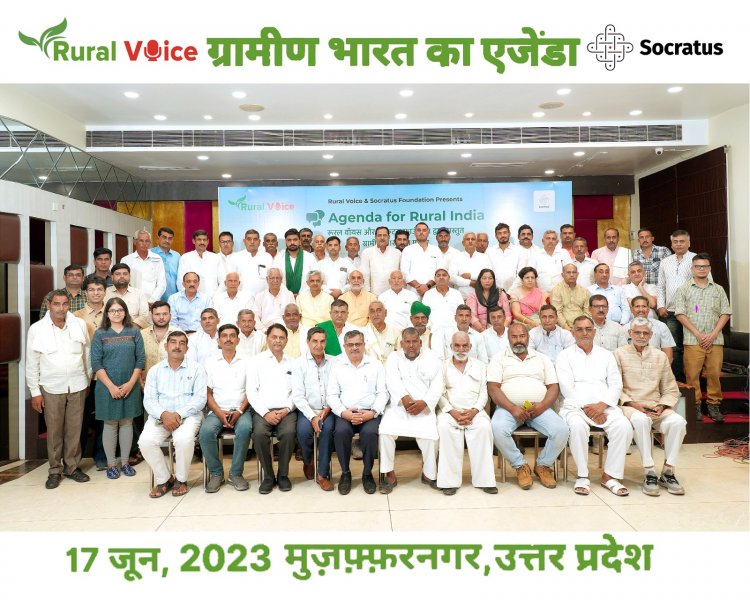 Participants in a day-long event on 'Agenda for Rural India'
Muzaffarnagar (UP), June 17: To promote participation of farmers and villagers in framing policies on agriculture and rural sector, a day-long event on 'Agenda for Rural India' was organised by the Rural Voice, a media platform dedicated to agriculture and rural economy, and Bengaluru-based Socratus Foundation.
The main objective of the program was to prepare a national agenda for policy changes by roping in farmers and villagers so that social and economic gap between the village and the city is reduced.
Keeping this approach in mind, participants from Meerut, Saharanpur and Moradabad Commissionarates (mandals) of Uttar Pradesh participated in the event and expressed their opinions on current issues, problems, challenges and necessary policy changes to solve them.
The 'Agenda for Rural India' is a unique initiative in itself and with this idea it is being organised for the first time at a countrywide level by its organisers. Its next phases will be organised in the southern, eastern and western states of the country.
The participation of farmers is necessary to identify as to what kind of policy changes and steps are needed for the economic strength of farmers and agriculture sector.
The program was held on this very assumption, and representatives of the village and the farmers rued that most of the policies have been decided by the governments without their opinion.
This is the reason that despite all the schemes, the agriculture sector is not able to grow more than the rest of the sectors and the backwardness of the rural areas is not going away.
The biggest feature of this program was that the farmers not only raised their problems but also came out with solutions. They also gave views on how to improve the economy of agriculture sector and rural areas and what should be the strategy for its future.
During the discussion, most of the farmers described the problem of stray cattle as the biggest problem and suggested that big cow shelters should be opened at every village or panchayat level. This will not only provide a better solution to this problem, but also make cow shelters economically viable.
Apart from this, unemployment and lack of agricultural laborers have emerged as a major problem in rural areas.
Farmers, experts and other participants from villages of western Uttar Pradesh also gave their opinion on the problem of not getting proper and timely price for the crops.
Issues like need for better education, lack of health facilities, poor soil health due to excessive use of fertilisers and pesticides, animal husbandry, non-promotion of small-scale food processing industries in villages, pollution, climate change, environmental degradation and other problems were pointed out by the farmers, who gave their suggestions on how to resolve these issues.
Harvir Singh, Editor-in-Chief, Rural Voice, and Prachur Goyal and Debjit Mitra, Directors, Socratus Foundation, moderated the programme.
In this conference held at Hotel Solitaire Inn, Muzaffarnagar, meaningful discussions were held by the farmers regarding problems related to agriculture, their solutions and the future of agriculture and rural areas.
Apart from Muzaffarnagar district, farmers from Meerut, Baghpat, Bijnor, Saharanpur and Shamli districts participated in large number.
Prominent among those who participated in the program included Ashok Balyan, President of Peasant Welfare Association, Dharmendra Malik, Spokesperson of Bhartiya Kisan Union (Apolitical), Senior Congress leader and former District congress President Narendra Pal Verma, District Panchayat member from Shamli, Umesh Panwar, District Panchayat Member Arvind Panwar, Founder of Integrated Jaggery Unit in Shamli District and former Group Head (Technical) of Balrampur Sugar Mill Group, KP Singh, Former Member of Muzaffarnagar District Panchayat and Shooter Renu Tomar, Incharge of KVK Baghra Dr. Savita Arya, Dr Ashok Panwar, a retired professor from Pantnagar agriculture University, Dr Ashok Kumar, former Professor of Sardar Patel Agriculture University.
Ompal Arya, former Chairman Land Development Bank, Charthawal, Imlakh, Pradhan Didahedi, Tejbir Singh Rana from Bhadal Baghpat, Chaudhary Udham Singh, Bijendra Singh Ninana, Rajbir Singh from Kansepur, Saharanpur, Yogendra Singh Rana Bijnore, Devendra Kumar from Bijnore, Vikas Kumar from Tigri Meerut, C P Singh from Eklauta Modipuram, and Santosh Sirohi from Sakoti were among around 100 people who participated in the event.