India ready to deal with sustainability challenges facing agriculture and food systems : Tomar
Union Minister of Agriculture and Farmers Welfare, Narendra Singh Tomar  said that India is addressing the sustainability challenges facing agriculture and food systems and several important initiatives have been taken to address these issues. He said that the Government of India is committed to the benefit of small and marginal farmers and many important schemes are being run for their welfare. Tomar was presenting India's point of view at the G-20 meeting in Bali, Indonesia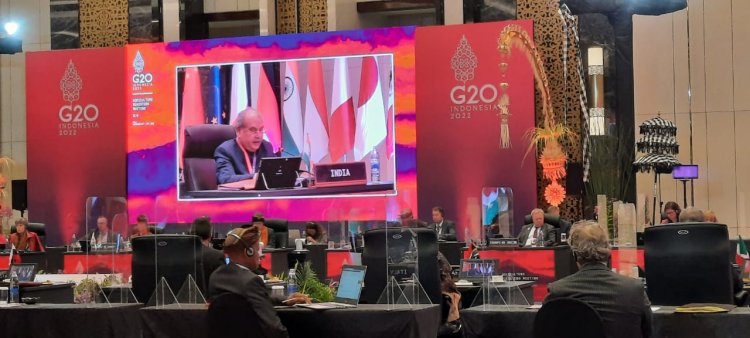 Union Minister of Agriculture and Farmers Welfare, Narendra Singh Tomar said that India is addressing the sustainability challenges facing agriculture and food systems and several important initiatives have been taken to address these issues. He said that the Government of India is committed to the benefit of small and marginal farmers and many important schemes are being run for their welfare. Tomar was presenting India's point of view at the G-20 meeting in Bali, Indonesia .
During the G-20 meeting, on the subject of building friendly and sustainable agriculture and food systems, Tomar said that India will enable farmers to respond to current and future crises by improving their access to inputs, technology and markets. India is committed to further the economic well-being of its farmers by organizing small and marginal farmers into groups, promoting agri-startups and investments in agricultural infrastructure, launching the world's largest crop insurance programme and conducting various activities like facilitating digitization of agriculture. The Innovation in Adaptive Agriculture Project has been launched at the national level, with an aim to develop climate-smart farming practices.
To benefit farmers through development of climate resilient varieties of various crops, Tomar said that India is promoting millet cultivation considering millet's tolerance towards harsh climatic conditions as well as their nutritional value. Recognizing these properties of millet, the United Nations has declared the year 2023 as the International Year of Millets on the proposal of India., In order to promote Food Diversity, Tomar sought everyone's support for the initiative to promote the consumption of millets that can be grown with less resources. Tomar said that India should take a big step to conserve its natural resources. In view of the upcoming challenges, India is promoting organic and natural farming practices on a large scale. It is imperative to sustainably increase agricultural production, reduce food losses, and strengthen global food supply chains. Let us all work together to ensure adequate income to our small and marginal farmers. Together we have to harness traditional knowledge and share emerging technologies and best practices. It has to be strengthened and an enabling policy environment has to be created to transform the agricultural ecosystem. An open, efficient and transparent agriculture sector is necessary to ensure availability and affordable food for all, he said.
In the session on promotion of trade, Tomar said that India is playing an important role in agricultural trade today. There was a time when India was an importer of food grains, but now , agriculture sector has been turned sustainable. Due to the development, India has rapidly emerged as a net exporter of agricultural products and in the last few years, India has maintained trade surplus in agricultural products. Despite the logistical challenges posed by the Corona pandemic, during the financial year 2020-21 exports of agriculture and allied products from India continued to rise, showing a huge growth of 18% over the previous year. During the global pandemic, India's agricultural exports in 2021-22 stood at USD 50.21 billion, reaching an all-time high. India's agriculture and food supply systems have not only reached self-reliance, but India's contribution has been exceptional among other nations since the beginning of the pandemic and India extended all possible help in this time of crisis by sending food grains to other countries. With the spirit of Vasudhaiva Kutumbakam, India stepped up efforts to make up for the losses faced during the pandemic.
Tomar said that we should also find solutions to the food security needs of the big nations that feed large populations and they should consider in their policies and programmes the issues such as the public distribution system of developing countries like India. This includes policies such as procuring food grains at the Minimum Support Price, supply and storage through the PDS system that addresses uncertainties and checks hoarding by middlemen, besides providing a reliable system to help raise the productivity of farmers and provide them a market and ensure affordable food to its citizens. Developing countries should be provided aid such as equipment, technologies and experts so that they can contribute to the food security of other vulnerable regions of the world as well as become self-reliant to be able to produce enough food. In order to provide better livelihood to the small and marginal farmers who feed the world, it is essential to enhance the nutrition-sensitive social security schemes, introduce new technologies and promote the efficient use of fertilizers and investment in sustainable food and nutrition security through programmes to strengthen the food systems. Ensuring food security, availability and affordability around the world is an important objective for which we should strive. It should be ensured that agricultural trade provides equal opportunities to all nations, especially the developing countries, and to the large number of small and marginal farmers.
Tomar also addressed the thematic session on improving rural livelihoods through digital technology in agriculture and food value chain. He said that digital technology in agriculture and food value chain is a contemporary issue in improving rural livelihoods. In India, use of mobile technologies in agriculture and food sector and proliferation of remote-sensing services and distributed computing is already leading to reforms benefitting the small landholders by collating their data on trade, market, finance and training. The 'Fourth Industrial Revolution' is poised for positive outcomes in the Agriculture sector. There is immense potential in creating an enabling environment for increasing the income of farming households with the use of technologies like Blockchain, Artificial Intelligence, Machine Learning, Drones and Internet of Things. India is adopting digital transformation to improve the decision making ability of farmers, so that they are capable of better managing risks and variability. India is headed towards creating the AgriStack by building a coherent Digital Agriculture Ecosystem with the aim of increasing the income of farmers and raising their standard of living through better implementation of schemes. He proposed to share the AgriStack with the budding Startup–entrepreneurs and others so that both the public and private sectors get benefitted by bringing ease of farming to the farmers. India can share its expertise in this regard with the world, especially in developing and least developed countries, he said.
In the concluding session Tomar said that India has been advocating the values ​​of living in harmony with nature since ancient times and has initiated the 'Mission Life' to bring individual practices to the forefront of the Global Climate Action Narrative. Mission Life is a scheme to draw the benefits of the capabilities of the social network affecting the social norms surrounding the climate. The Mission plans to create and nurture a global network of individuals, i.e. 'Pro-Planet People' (P3), who have access to an ecofriendly lifestyle and a shared commitment to promote it. Through the P3 community, the mission seeks to create and reinforce a self-reliant ecosystem that is environment friendly.