Potato farmers wait for TOP formula even as they have to suffer losses for another year
The potato farmers may have to face losses in ways more than one: increasing costs, decrease in productivity, and fall in prices. They have been hoping for a bumper year of earnings for the past five years, but the hope now seems to be stretching over a protracted period.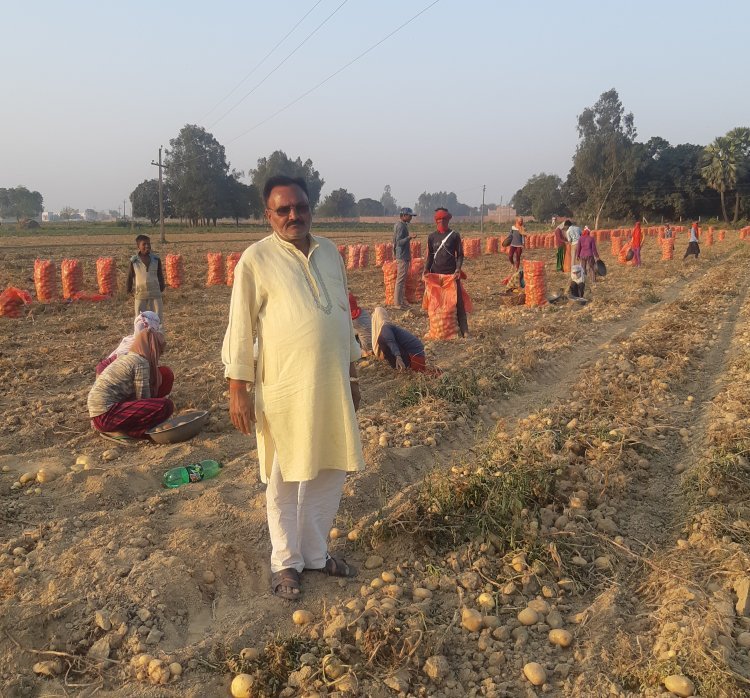 Potato farmer Awadhesh Kumar Katiyar of Kannauj
Tidiyapur, Kannauj, UP
If you are travelling on the Taj Expressway that goes from Greater Noida to Agra and subsequently on the Agra–Lucknow Expressway, as you go some distance ahead of Mathura you get to see, as far as your eyes can go, farmers and labourers digging potatoes, long queues of sacks of red and beige potatoes, and sacks of potatoes loaded on tractor trolleys and trucks proceeding towards cold stores. Such scenes continue in succession from Mathura to Unnao. If you get down the expressway and go on the roads towards Aligarh, Hathras, Kannauj, Shikohabad, Farrukhabad, Etawah, Kanpur and Hardoi, the same view prevails even there. Such a scene may lead people to the illusion that potatoes that sold dear until a few months ago are coming up with better earning prospects for the farmers.
Speak to the farmers and you get a different story. The reasons for this are the productivity of potatoes this year being less than what was predicted and a fall in prices. The production will go up by about 10 per cent as potatoes were cultivated this year on a larger acreage in expectation of better prices. This would lead to the likelihood of potato farmers having to face losses in ways more than one: increasing costs, decrease in productivity, and fall in prices. They have been hoping for a bumper year of earnings for the past five years, but the hope now seems to be stretching over a protracted period.
Bablu Katiyar, a farmer in Tidiyapur village of Kannauj district that lies on the road that connects the Lucknow Expressway to Kannauj, has dug the potatoes from his one-acre farm and is now busy with the labourers packing those potatoes into sacks so that they may be sent to a cold store. In a conversation with RuralVoice, he says, "The price has fallen. We are getting about four hundred rupees for a bag (52kg) of potatoes. Last year the crop was weak, but the price was higher. This year we expected to get 300 bags from an acre but the production has been only 200-225 bags." He gives a detailed account of the costs, which are coming to 20 thousand rupees a bigha, if we include the expenses on seeds, fertilizers, labour, irrigation, digging, tare, freight and cold storage facility. "The cold store owners charge 125 rupees per bag. We hoped for more than 50 bags per bigha this year but the production has stagnated at 40 to 45 bags. If we consider a production of 2,250kg in a bigha and a cost of 20 thousand rupees, the per kg cost comes to Rs 8.90. The farmer can make some profit only if potatoes sell at a minimum of 10 rupees per kg or else, he is bound to suffer losses."
Says Bablu, "Potato prices had gone up to 1,000 to 1,200 rupees per bag in October 2020. This led people to increase the acreage of the crop. But going by the prevailing (low) price and low productivity, only the post-season price will now determine whether we can at least break even." In fact, the farmers manage some costs by selling about 20 per cent of the potatoes at the time of digging while the remaining 80 per cent finds its way to the cold stores. The sale of this goes on up to November.
As you move ahead some distance on the Kannauj-Hardoi road, you come across Awadhesh Kumar Katiyar, a farmer from Manpur village in Kannauj district who cultivates potatoes in 29 bighas. Says Awadhesh in a conversation with RuralVoice: "We are getting a production of 40 bags per bigha. The cost is coming to ten rupees a kilo. While the price we are getting is eight rupees. Obviously, we are already running losses. Things will become clearer once the sale of potatoes begins in the days to come after they have reached the cold stores. We have been waiting for a season of better earnings for four years. Last year the prices had risen somewhat thanks to the decrease in production, but the farmers could not reap its benefits due to the lockdown imposed on account of the Corona epidemic." One farmer after another goes on repeating the same story. As of now, more than 50 per cent of the potatoes have been dug in the Farrukhabad–Etawah–Kannauj belt, one of the three potato belts in Uttar Pradesh (UP).
South-west UP, which may also be called the Lower Doab, is the largest potato-producing belt of the country. It runs through Mathura, Aligarh, Hathras, Agra, Firozabad, Farrukhabad, Etawah, Mainpuri and Kannauj and extends further to Barabanki and Jaunpur. It is divided into two zones on the basis of production and business: Agra zone and Kanpur zone. The Agra zone supplies potatoes to Delhi, South India, Maharashtra and Central India while the Kanpur zone supplies them mostly to the eastern and north-eastern parts of the country. Besides, Bihar and West Bengal also supply potatoes to these latter parts of the country. The digging of potatoes starts in the potato belt of UP from Basant Panchami and continues till Holi, or say the 15th of March. The crop is weak in some of the parts around Kannauj and normal in others. Digging has also started in the Agra–Aligarh–Hathras–Mathura–Mainpuri belt and will continue until Holi. This is the largest potato-producing belt.
Says Dungar Singh Khandauli, a farmer from Khandauli town in Agra, to RuralVoice: "Going by the digging as of now, the productivity is lower by eight to 10 per cent. Whereas the market has gone down from Rs 500-700 to Rs 350-400 per bag. As a result, the farmer has been hit by a double whammy of fall in productivity and prices both." Dungar Singh, who cultivates potatoes in 100-odd acres and is a cold-store owner, counts among those who can estimate potato business in UP accurately enough.
Dungar Singh says that the productivity has been lower by 10 per cent as the potatoes are smaller in size. "It is likely that the Farrukhabad–Kannauj belt will have production sufficient to fill the cold stores, but one does not expect all the cold stores of the Agra belt to be filled this time." He says there will be a loss of Rs 100 per bag because of the costs and prices this year. However, he says, "the production this year will be 10 to 15 per cent more than that last year." This is mainly on account of the larger acreage under potato cultivation this year, thanks to the better prices last year.
About 30 per cent of the potatoes in the country is produced in UP. It is a commercial crop for the potato belt of the state. People have invested heavily on cold-storage capacity here. Agra alone has about 300 cold stores. Which is the largest number of cold stores in any district of India. There are about a thousand cold stores in this potato belt. On an average capacity of 10,000 tonnes, the total capacity of the cold stores comes down to 10 million tonnes (mt). While the total potato production of UP last year was 13mt. Says Dungar Singh, "The production situation will become clearer in a week. If there is a greater impact on productivity, it may impact the prices as well. If, on the other hand, production does not go down by much, prices may fall further."
Farmers say that when the prices began to reach 1,000 to 1,200 rupees per bag last October, the UP government officials started pressuring the farmers to take potatoes out of the cold stores. The reason was the elections in Bihar, where the increase in potato prices had become a political issue. The pressure was created on the farmers to prevent the BJP from suffering a political loss. Legally, however, the farmers are not bound to take potatoes out of the cold stores until November. Such a circumstance led to a fall in prices. Thus, farmers had to suffer losses for the political gains of others.
In 2019-20, the potato production in the country had gone down to 48.66mt. This had led to an increase in prices. As per official government data, the potato production was 43.42mt in 2015-16. Which increased to 48.60mt in 2016-17. Next year, in 2017-18, it reached a record 51.31mt. In 2018-19, it was 50.19mt, which came down to 48.66mt in 2019-20. Of this, UP produced 13mt, West Bengal 12.56mt, Bihar 7.7mt, Gujarat 3.62mt, Madhya Pradesh 3.46mt and Punjab 2.87mt. In the record production year of 2017-18, production in UP had reached 15.56mt. Which had led to a drastic fall in prices. Earlier, demonetisation had aggravated the situation for the potato farmers. The prices had increased somewhat in 2018, but not substantially. Last year, of course, there were chances of improvement in prices on account of low production but the lockdown prevented the farmers from benefiting much. When prices increased in October 2020, there was indirect pressure on the farmers to take potatoes out of cold stores.
The conditions do not seem to be too congenial to the potato farmers even this year. When it comes to help from the government in case of falling prices, Bablu Katiyar, Awadhesh Katiyar and Dungar Singh all are unanimous that there is no hope of support from the government even if they have to suffer losses. However, there is much talk by the government about the Operation Green scheme for TOP (Tomato, Onion and Potato) farmers. The scheme aims to prevent a drastic fall in prices of these and help check fluctuations. But it is the farmers who know better how the ground reality stands.
Amidst all this, these farmers say in regard to the ongoing farmers' movement in north-western India that if they too could get Minimum Support Price (MSP) for potatoes, they will be spared the losses. They will at least break even. Many of these farmers may not have been able to join those sitting at the Delhi borders but they too certainly want MSP. In fact, like sugarcane, potato is also a commercial crop wherein farmers incur huge costs and the marketing is wholly systematic. But they don't get any Fair and Remunerative Price (FRP) of the kind one sees in the case of sugarcane. On the other hand, those experts who talk of agricultural reforms in order to encourage the corporate to invest in storage should also visit the potato belt and see things first-hand. It is when they come here that they would become aware of the extent of investment in cold stores and of the fact that there is no lack of storage. The real problems are those of profitability and price stability, which may assure them of fair prices and bring them out of losses.
Several farmers of this belt say that being small farmers, they are not in a position to go to the farmers' movement. But an assurance like MSP is something that they, too, want to have. They associate themselves with the movement through this notion. Quite a number of them have even participated in the movement on the Delhi borders. However, going by the prevailing situation, the current year has brought worries of losses rather than hopes of profit for the growers of potato, the largest crop among the horticultural produces of the country.