Amul's entry in Bengaluru creates political ripples in poll-bound Karnataka
At the root of the controversy is Gujarat-based Amul's move to enter the Bengaluru market which, Opposition parties allege, would affect Karnataka's dairy co-operative Nandini, and lakhs of dairy farmers in the state.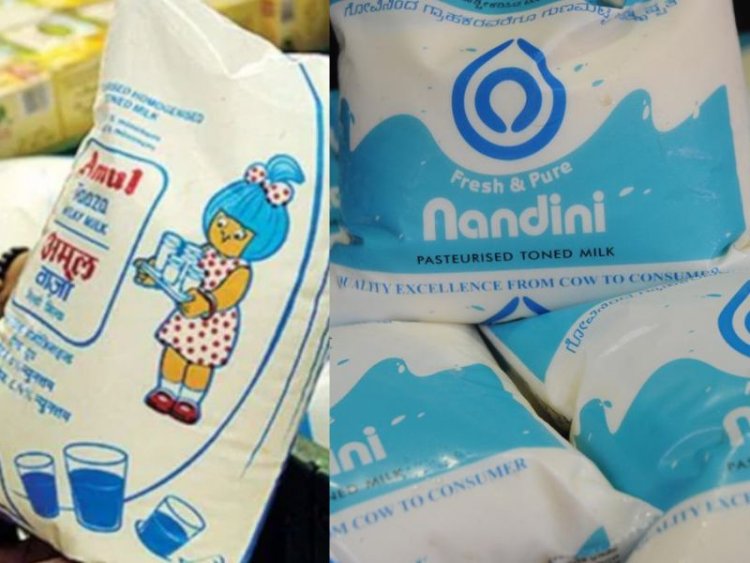 symbolic photo
Amid the battle of ballots in Karnataka, the entry of Amul – the taste of India – has created a political controversy at a time when Assembly elections are just a month away, with political parties seeking to exploit the issue to the hilt.
At the root of the controversy is Gujarat-based Amul's move to enter the Bengaluru market which, Opposition parties allege, would affect Karnataka's dairy co-operative Nandini, and lakhs of dairy farmers in the state.
It started in December 2022, when Opposition Congress and JD (S) launched a protest after Union cooperation minister Amit Shah said Gujarat Cooperative Milk Marketing Federation (GCMMF)'s Amul and Karnataka Milk Federation (KMF)'s Nandini would work jointly to set up primary diaries in every village of Karnataka in three years.
Stating that it is a ploy to merge Nandini with Amul, opposition parties in the state condemned the move, saying that it will affect the interest of Karnataka and dairy farmers. Sources told RURAL VOICE that at present Amul's entry in Karnataka is only through online platform. Amul is already selling milk in the twin cities of Hubli–Dharwad in Karnataka since 2015 through retail outlets.
For all the political brouhaha over the "entry" of Amul into Karnataka's milk market – amplified by the ongoing state assembly elections – the economic reality is simple: No dairy, including the Gujarat Cooperative Milk Marketing Federation (GCMMF), is in a position to take on the Karnataka Cooperative Milk Producers' Federation (KMF) today.
The reason is price. KMF milk, marketed under the Nandini brand as opposed to GCMMF's Amul, is the cheapest in India. Consumers in Bengaluru currently pay only Rs 39 for a litre of Nandini toned milk containing 3% fat and 8.5% SNF (solids-not-fat). Compare this to the Rs 54/litre price for Amul toned milk in Delhi and Rs 52/litre in Gujarat.
The same goes for full-cream milk having 6% fat and 9% SNF, where GCMMF is charging Rs 66/litre in the national capital region and Rs 64/litre in Gujarat. Till early-March, this milk from Nandini was retailing at just Rs 50 for one litre and Rs 24 for 500 ml. KMF has since hiked the price indirectly by charging the same for smaller packs of 900 ml and 450 ml respectively. The maximum retail price of Nandini curd is also only Rs 47 per kg, against Rs 30 for a 450-gm pouch (Rs 66-67/kg) of Amul's.
The BJP government under B.S. Yediyurappa, in September 2008, started giving a Rs 2/litre incentive to farmers supplying milk to the KMF-affiliated district unions, over and above the latter's procurement price. The Siddaramaiah-led Congress government, in May 2013, doubled the incentive and further raised it to Rs 5/litre in November 2016. In November 2019, when Yediyurappa was back as CM, it was hiked again to Rs 6/litre.
The price incentive has given a huge stimulus to dairying in Karnataka, with procurement by the KMF unions soaring from an average of 30.25 lakh kg per day (LKPD) in 2007-08 to 58.61 LKPD in 2014-15 and 81.66 LKPD in 2021-22. KMF's milk procurement in 2021-22 was next only to GCMMF's 263.66 LKPD. The two together accounted for about 60% of the procurement by all dairy cooperatives in India.
A political slugfest broke out between the ruling BJP, and opposition Congress and JD(S) over the "threat" to Karnataka Milk Federation's famed dairy brand 'Nandini' following Amul's entry to the state. Recently, Gujarat-based cooperative society Amul tweeted: "A new wave of freshness with milk and curd is coming to Bengaluru. More information coming soon. #LaunchAlert. From Kengeri to Whitefield, wishing everyone a Taaza day."
In another tweet, the dairy brand said, "The #Amul family is bringing in some Taaza into #Bengaluru city. More updates coming in soon. #LaunchAlert. Taaza arriving soon in Bengaluru."
While the opposition parties have charged that the BJP government was out to finish Nandini, Chief Minister Basavaraj Bommai said the government is clear on the issue of Amul. Accusing Congress of politicising Amul's entry to Karnataka, Bommai said: "We have absolute clarity with regard to Amul. Nandini is a national brand. It's not restricted to Karnataka. We have popularised Nandini as a brand in other states as well. He added that not only has milk production increased in the state but incentives have also been given to the milk producers.
The Chief Minister stressed that several major dairies of KMF in the state have been established during BJP rule. "Production and number of products have increased. There is a market too (for Nandini products). Hence, Nandini will become a number one brand in some days," Bommai said. The Chief Minister said the state is selling Nandini in other states as well. "There is no need to be afraid of Amul. Our Nandini is an established brand. We will take all the steps to give Amul a tough competition," he pointed out.
Karnataka Health Minister K Sudhakar too hit out at the Congress for giving a political colour to the issue. Stating that in a globalised economy any product can be exported or imported from any country, the minister reminded Congress that the policy related to globalisation was brought in by the Congress itself. He appealed to the opposition members not to limit Nandini Milk to Karnataka alone since the brand has already made its presence in Maharashtra and now it was trying to enter Delhi. "Our milk is going to the defence services. Nandini Ghee is used for making laddus in Tirupati. KMF is a model for the entire country."
Sudhakar said already there are 16 to 18 private firms selling their dairy products in Karnataka such as, Heritage, Dodla and Arokya but the Congress never remembered Nandini when these brands entered the state. Hitting out at the Congress he said: "Does Amul means BJP and Nandini Congress? Are you building such narratives? Should you insult our farmers, our system and institutions this way? This must be stopped.
AICC general secretary and Karnataka party in-charge Randeep Surjewala raised the issue alleging that the BJP was trying to "sell off" Nandini. Surjewala tweeted, "BJP conspiracy to sell off Karnataka Milk Federation to Gujarat's Amul is now clear. 1st, Mr. Amit Shah said it openly. Now, Ms. Shobha Karandlje supports it. NANDINI LOSES, AMUL GAINS, BOMMAI GOVT REMAINS MUTE' ! Save NANDINI, Vote BJP out !" Former chief minister H D Kumaraswamy too flayed the state government on this issue in a series of tweets. "Now there is a 3rd plot to finish the lifeline of Kannadigas Nandini. Plot-1: Merger of Nandini with Amul; Union Home Minister Amit Shah's statement. Plot-2: Print the Hindi word 'Dahi' on curd." "Both plots failed due to strong opposition from Kannadigas. The central government through Amul is going to make the 3rd plot successful," he said.
Kumaraswamy, the JD(S) second-in-command, alleged that Amul has this 'bad thinking' to finish off its lone competitor Nandini in Karnataka itself. "One nation, one Amul, one milk and one Gujarat' has become the official policy of the Central government. Hence, Amul is strangulating KMF by standing in its support," Kumaraswamy charged.
During Amit Shah's visit to Mandya in December 2022 where he inaugurated a mega dairy of KMF with a capacity to process 10 lakh litres a day at a cost of Rs 260 crore, the opposition had targeted him for his purported remark that Nandini and Amul should come together. The opposition alleged that the statement meant that the two cooperative brands should be merged together, which Chief Minister Bommai and state Cooperative Minister S T Somashekar rubbished.
A fortnight back, another controversy had broken out when the Food Safety and Standards Authority of India (FSSAI) had directed the KMF to print 'Dahi' on curd packets along with the local nomenclature. The opposition, especially the JD(S), had termed it as an attempt to 'impose' Hindi on the people of the state.