Leads Connect strives to boost farmers' income
Agrani is an end-to-end SaaS based platform developed for all stakeholders of Agriculture and Disaster Management. It aims to connect all dots spanning from Farm to Table in the agricultural spectrum for providing farmer centric solutions using Space Tech Analytics and Artificial Intelligence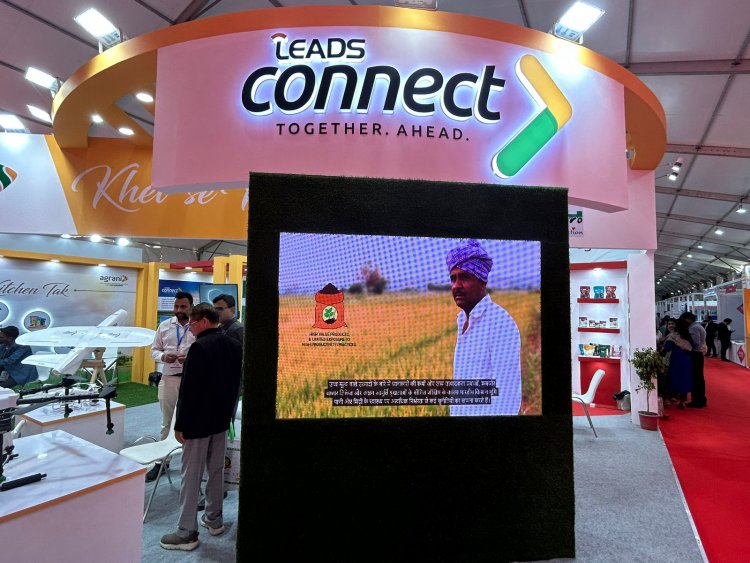 The Uttar Pradesh Global Investors Summit has set a perfect stage for introduction of a sustainable agri-value chain platform that can support in increasing the income of farmers and subsequently ensure better profits for all Agri stakeholders.
Leads Connect Services, the premier Agritech data, risk management, and financial services company, proudly introduced the game-changing Agrani platform at the Uttar Pradesh Global Investors Summit 2023 (UPGIS).
Agrani is an end-to-end SaaS based platform developed for all stakeholders of Agriculture and Disaster Management. It aims to connect all dots spanning from Farm to Table in the agricultural spectrum for providing farmer centric solutions using Space Tech Analytics and Artificial Intelligence.
UPGIS was a singular opportunity to launch the app. It created the perfect storm by bringing together global corporate leaders, policymakers, think tanks, and political and government leadership to raise awareness and generate more reach for the technology.
"Agrani is not just a simple market linkage app; it's a game changer for the agriculture industry," stressed Navneet Ravikar, Chairman & Managing Director of Leads Connect Services.
"We're proud to launch it at UPGIS. Land, water, and soil health are witnessing stressed scenarios due to phenomenal urbanisation and other allied activities. This may create a scenario of uncertainties in the context of productivity and economic stability. Therefore, appropriate interventions are required.
"Through AGRANI, we're aiming to provide stage wise agronomy advisories such as impact of weather, biophysical, and crop management practises on yield productivity. We have also assessed the need for financing and crop insurance to help strengthen the ecosystem. This requires robust and transparent underwriting algorithms and medium.
"We've created agricultural credit and value chain scores for seamless, and efficient farm lending with electronic applications, disbursal of loans, insurance pay-outs linked to weather, field data all this aimed to benefit transfers in agriculture and help farmers struggling to get timely access to finance," he said.
"We have also enabled an omni-channel insurance platform, to provide seamless access to all relevant insurance products - health, crop, cattle, life, and motor. The platform will also deliver continuous post-sale service assistance, including claims management," he said.
The adoption of diverse technologies can aid in the advancement of food processing and logistics. We are also establishing the right market linkages between farmers and buyers to create better transparency in pricing and better value, especially for perishable products. By bridging the gap between farmers and customers, the platform helps to expand the food product distribution network for farmers and other stakeholders in domestic markets.
Similarly, Mandis and FPOs need digitisation to bring more transparency into transactions and farmers need more sales channels. "Through our AGRANI Value Chain Platform, we aim to provide timely access to finance for FPOs/Agribusinesses for community infrastructure in terms of storage and transportation. We also have walk in Agrani Centres that would act as the physical outlets for all platform services to the stakeholders," he added.
Leads Connect is an agritech company that provides a range of products and services to the agriculture industry. Their mission is to connect and empower farm value chains to enable a sustainable, scalable, and profitable agribusiness ecosystem. The organisation also engages in research and development-based analytics related to climate and hazards, landscape, biodiversity, cities, and geospatial analytics.
Leads Connect has delivered projects related to remote sensing-based crop health monitoring, crop acreage, crop yield estimates, and risk and claim management services to various central and state organisations, insurers, and reinsurers. In addition, it has used machine learning algorithms and satellite remote sensing analytics to develop a framework for yield estimation at the GP level.
Leads Connect Services also ventured into manufacturing of affordable kisan drones, high-endurance drones and submersible drones and nano-satellites through their new unit Leads Aerospace for providing Earth Observation Analytics & Services to Agriculture & Other Industries including Drone as a Service, Precision Farming, Smart Spraying, Surveillance, Monitoring and Mapping, the company said in a press release.