Fertilizer Minister Mansukh Mandaviya dedicates IFFCO's two Nano Urea manufacturing plants to the nation
Two additional Nano Urea Plants by IFFCO, world's No. 1 processed fertilizer cooperative were dedicated to the nation by Mansukh Mandaviya, Minister of Chemicals and Fertilizers, Government of India today. The two manufacturing units were commissioned at IFFCO Aonla Unit in Bareilly and IFFCO Phulpur, Prayagraj, Uttar Pradesh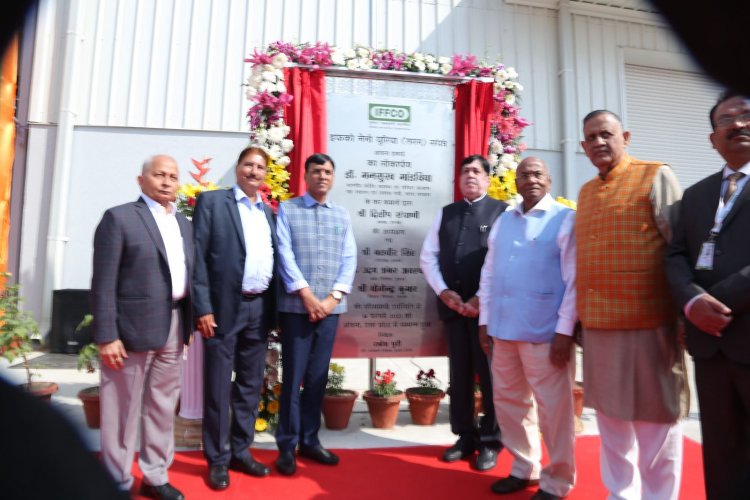 Two additional Nano Urea Plants by IFFCO, world's No. 1 processed fertilizer cooperative were dedicated to the nation by Mansukh Mandaviya, Minister of Chemicals and Fertilizers, Government of India today. The two manufacturing units were commissioned at IFFCO Aonla Unit in Bareilly and IFFCO Phulpur, Prayagraj, Uttar Pradesh.
According to a press release issues by IFFCO, the capacity of these 2 new Nano Urea Plants each will be Two lakh bottles per day each. This is yet another achievement in the history of Indian fertiliser sector of the country for the benefit of farmer of the country and will make India Self-reliant. This will be a major boost to the fertilizer sector and will help in lowering the dependence on the import-intensive traditional fertilizers. These steps were inspired by Honourable Prime Minister Narendra Modi's vision of "Atmanirbhar Bharat" and "Atmanirbhar Krishi".
IFFCO Nano Urea is the innovation of the century and will bring a paradigm shift in Nutrient Management, setting new benchmarks for development of fertilizer. IFFCO's R & D in Nanotechnology offers a great potential to tailor fertilizer production globally with the desired chemical composition, improve the nutrient use efficiency that reduces environmental impact and boosts the plant productivity.
IFFCO is continuously working in the field of Research and Development for the benefit of farmers. World's First Nano Fertiliser, Nano Urea developed by IFFCO, will certainly reduce the environment impact and carbon footprint while enhancing the crop productivity at the same point. This is a giant step towards Sustainable Agriculture. IFFCO is working to realise Prime Minister's dream of doubling the farmers' income. IFFCO has been on the forefront in the field of Agricultural innovation and soon will be introducing IFFCO Nano DAP for the benefit & betterment of the farmers of the country which has been recently approved for the commercial use.
Dr. U S Awasthi, MD IFFCO said that Nano Urea liquid has been found to be very effective in increasing the nutritional quality & productivity of crop and has a huge positive impact on the quality of underground water & environment thus resulting in significant reduction in the global warming.
Chairman IFFCO, Shri Dileep Sanghani said Nano urea Liquid has been made in line with the PM Modi's vision of Atmanirbhar Bharat and Sahkar se Samriddhi with the aim of increasing farmers income. Indian Farmers Fertiliser Cooperative Ltd. (IFFCO) had earlier last year introduced the world's first IFFCO Nano Urea (Liquid) & which is included in Fertiliser Control Order (FCO, 1985). IFFCO Nano Urea (Liquid) was indigenously developed through the proprietary technology at IFFCOs Nano Biotechnology Research Centre (NBRC) in Kalol, Gujarat . IFFCO's Nano Urea liquid is a revolutionary product and is a step forward towards Sustainable Agriculture.