NCDC celebrates International Day of Cooperatives
Cooperatives have risen to the occasion in fighting Covid-19 to help the public, says Bhagwan Shankar, Additional Chief Secretary, Food & Civil Supplies and Cooperation Department, Government of Sikkim.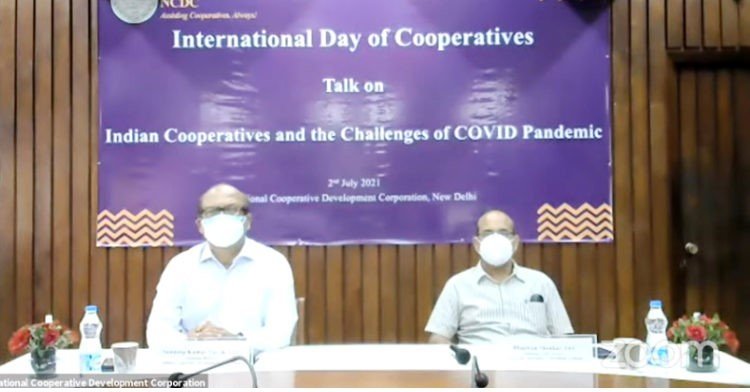 In the times of the ongoing Covid-19 crisis, many cooperatives in India have risen to the occasion and shown their capabilities to respond to the pandemic to the best of their capabilities, said Bhagwan Shankar, Additional Chief Secretary, Cooperation Department, Government of Sikkim in New Delhi on Friday July 2.
He was speaking at an event "Cooperatives and the Challenges of Covid-19 Pandemic" organized by the National Cooperative Development Corporation (NCDC) to mark the International Day of Cooperatives celebrated every year. The theme of this year was "Rebuild Better Together" to highlight the resilience and sustainability of cooperatives' people-over-profit business model.
"During the COVID-19 pandemic, cooperative societies have not shied away from their responsibilities but come to the forefront to help and support members, families and communities by supplying essential commodities where (they are) needed the most. Cooperatives may not be a panacea for all remedies but they can definitely make significant contributions in helping distribute resources across the country," said Shankar.
"In fact, many cooperatives played a very proactive role during the Covid crisis. Examples have been set up by cooperatives where they came forward in supplying oxygen and cash transfers to the public in need. These are just a few examples," he said. Shankar also talked in detail about the significant contributions made by the cooperatives in his State during the Covid-induced crisis.
However, noting that the earnings of many cooperatives suffered due to the pandemic, he said that it had become "necessary for the government to provide them conducive atmosphere to nurture them during the crisis. The facilitator of the cooperative sectors requires more than ever support in terms of easily available finance, in the form of grants, subsidies and soft loans to such cooperative-based businesses."
Presently, there are around 8 lakh cooperatives in the country giving employment to more than 10 crore people in the sector.
Earlier Mukesh Kumar, Executive Director, NCDC pointed out that despite the pandemic many cooperatives had been performing well. He also took an opportunity to remind the audience, NCDC officials from headquarters and regional offices, besides the members of cooperatives, about Covid-appropriate behaviour, urging them to get vaccinated, wash their hands, keep their distance and use masks "because we are still deep inside the pandemic".
Cooperatives around the world are showcasing how they are meeting the Covid-19 crisis with solidarity and resilience and also offering communities a people-centred and environmentally just recovery.