Budget 2023-24: Abolish GST on agri produce bought from FPOs; focus on commercialization of biotech start-ups
The agriculture sector remains a key focus area of every Union budget. This year, too, it is unlikely to be any different. Keeping this in mind, various quarters have raised demands for the benefit of the farming community in the run-up to the presentation of the Union Budget in Parliament on February 1.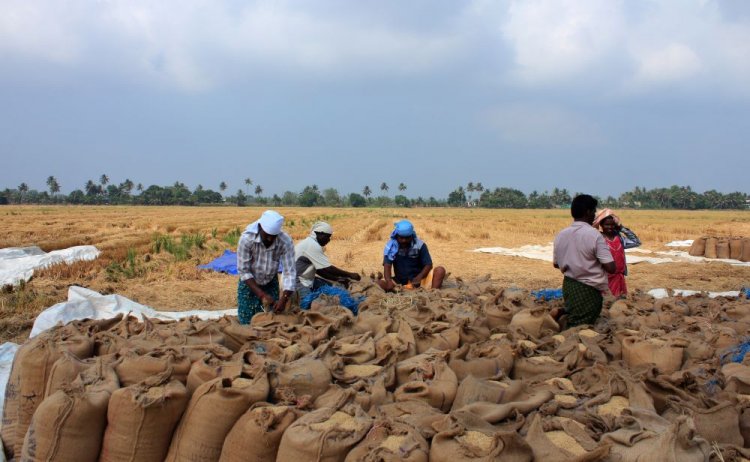 The agriculture sector remains a key focus area of every Union Budget. This year, too, is unlikely to be any different.
Keeping this in mind, various quarters have raised demands for the benefit of the farming community in the run-up to the presentation of the Union Budget in Parliament on February 1.
Navneet Ravikar, Chairman and Managing Director (CMD), Leads Connect Services, expects the government to abolish the GST and mandi tax on agricultural produce brought from Farmer Producer Organisations (FPOs).
Also, a universal crop insurance scheme should be launched with a 100 per cent subsidy on premiums for marginal farmers with landholding below two hectares, he says.
A crop insurance third-party loss assessors' association should be formed for technology-based yield estimation and localized claims assessment for timely and equitable claim settlement under the Pradhan Mantri Fasal Bima Yojana (PMFBY), he has suggested.
The grants and subsidies under various schemes for drones should be extended to agritech, agrifintech and private research organizations that are working in the field of agriculture.
At last, the government should grant 50 per cent subsidy for essaying, testing and certification on agricultural products, milk produce to certified food testing labs, he says.
Aneesh Jain, Founder, Gram Unnati, says that with millions of Indians depending on agriculture as the primary source of their livelihood, the sector has always been, especially in the last few years, a key focus of the Union Budget. "This year too we expect the government to support interventions (that) will enable farmers to sustainably improve their incomes," he said.
To enable this, he said, farmers need to adopt new crops and technologies which have the potential to drastically improve yields and returns. Some incentives or schemes for setting up demonstrations will go a great distance in promoting new crop and technology adoption by farmers.
These demonstrations should, however, be conducted in concentrated clusters at a village or Gram Panchayat level to enable sufficient production at one place, otherwise market linkages might become a challenge.
It might also be useful to incentivize the use of modern and innovative crop nutrition solutions. Schemes in this direction will reduce farmers' dependency on urea and DAP, says Jain.
Lastly, to support the integration of FPOs and agritech companies in the agricultural supply chains, Credit Guarantees for Working Capital lines could be explored. These will enable timely payments to farmers and efficient linkages with markets, especially by FPOs.
Ankit Alok Bagaria, Co-Founder, Loopworm, feels that the upcoming Union Budget 2023 must attempt to positively transform the agriculture and biotechnology sectors in India from a differentiated lens.
Loopworm works as an agri-biotechnology start-up that takes inspiration from nature to convert organic waste into valuable products promoting health, nourishment and well-being for all forms of life.
"When it comes to the agriculture sector in India, we have seen in the previous years that most of the time the budgetary money allocated goes into various subsidies or loans. While loans and subsidies are important for agri-stakeholders, the grant money to scale up innovative ideas to PoC (pilots to commercialization) is minimal.
"On the other hand, the Indian biotechnology space also faces a similar dilemma. In the previous year's Budget, a significantly large part of the allocated amount that went to the Department of Biotechnology (DBT) was spent on autonomous bodies and institutes focusing on biotech research; however, support provided in terms of commercialization to start-ups or corporates remained limited," Bagaria says.
Thus, in the upcoming Budget 2023, the focus should be more on supporting the commercialization of biotechnology companies or start-ups. Given that biotech machinery and equipment are quite expensive in India today, financial support with loans and subsidies could help a lot in accelerating commercialization and scale-up.
"On the other hand, when it comes to agri-allied or agritech innovations and start-ups, we expect the Budget 2023 to make scale-up grants available as well, independent of whether or not any start-up has availed a smaller grant previously. If the start-up is ready, they should be helped with the money to scale up. Furthermore, the Budget should also be promoting precision agriculture and unconventional forms of agriculture such as algae farming, insect farming, etc., with special allocations or incentives," Bagaria adds.
Shekar Sivasubramanian, CEO of Wadhwani Institute for Artificial Intelligence (Wadhwani AI), says, "Small farmers in India depend on government and non-profit programmes at every step of the crop cycle. Timely, accurate, and hyperlocal AI-based early-pest warning and advisory can augment human capabilities to overcome systemic challenges in these large-scale programmes."
In the upcoming Budget, a continued focus on building sustainable AI capacities to support large-scale deployment of AI solutions will go a long way in creating a material impact on the lives of the underserved people of India. "The opportunities are immense, the time is right, and it is for us to get this done," Sivasubramanian says.
Wadhwani AI is a non-profit institute developing and deploying AI-based solutions for underserved communities in developing countries. It is currently building solutions in the agriculture and healthcare domains.