BJP Sarkar comes to power, Yogi pads up for 2024 LS polls
Yogi has become the first CM after a gap of more than 35 years to return to power for a second consecutive term in UP by subduing anti-incumbency and proving the pollsters wrong. Keshav Prasad Maurya and Brijesh Pathak have been made deputy CMs, even as 16 and 14 UP legislators were sworn in as cabinet ministers and ministers of state (MoS) with independent charge respectively. Besides, 20 legislators were administered oath as MoS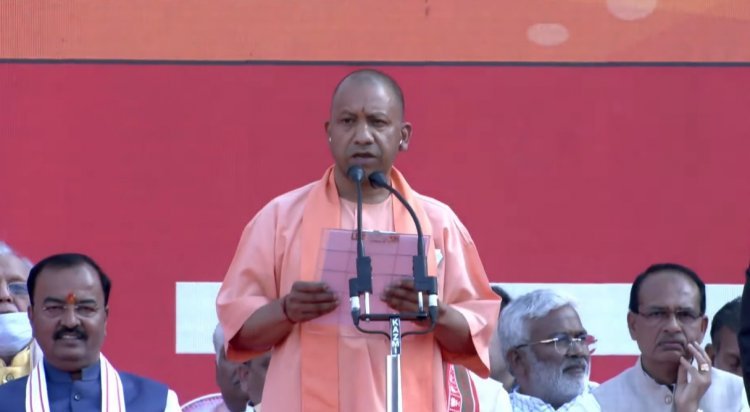 Lucknow / Mar 25, 2022
The motley crowd of nearly 75,000 people including dignitaries at the Ekana Stadium in Lucknow witnessed history in the making when Yogi Adityanath took the oath of office and secracy as Uttar Pradesh chief minister in the presence of Prime Minister Narendra Modi.
Yogi has become the first CM after a gap of more than 35 years to return to power for a second consecutive term in UP by subduing anti-incumbency and proving the pollsters wrong.
In all, 53 people including Yogi were administered the oath by UP Governor Anandiben Patel with the Stadium wearing a festive look dominated by saffron, the signature hue of the ruling Bharatiya Janata Party (BJP).
Keshav Prasad Maurya and Brijesh Pathak have been made deputy CMs, even as 16 and 14 UP legislators were sworn in as cabinet ministers and ministers of state (MoS) with independent charge respectively. Besides, 20 legislators were administered oath as MoS.
Since 2024 Lok Sabha polls are merely two years away, the BJP has dextrously tried to balance the complex caste and regional mathematics for a plausible winning combination giving adequate representation to the different sections.
Moreover, Yogi 2.0 has a right mix of the youth with old guards, thus combining experience with new faces.
For example, former bureaucrat and UP member of legislative council (MLC) Arvind Kumar Sharma has been made a cabinet minister, while former Indian Police Service (IPS) officer Asim Arun, who took voluntary retirement to contest polls, has been named as a MoS.
While Sharma hails from the forward Bhumihar caste, Arun belongs to the dalit community. Sharma is considered close to Modi and was instrumental in making Vibrant Gujarat a success during the latter's stint as the Gujarat CM. He could be instrumental in pushing forth the central government projects, especially in Modi's parliamentary constituency of Varanasi.
Besides, Dinesh Sharma, who was a deputy CM in Yogi cabinet 1.0 has been dropped, while Pathak, a BJP legislator from Lucknow, has stepped in to keep the Brahmin community in good humour ahead of the next Lok Sabha polls.
To woo the minorities, MoS Danish Azad Ansari will serve as the Muslim face of the new dispensation. BJP MLC and former cricketer Mohsin Raza has been dropped.
Several prominent leaders have been dropped in the new government, including Satish Mahana, Shrikant Sharma and Sidharth Nath Singh.
In the new cabinet, Ashish Patel and Sanjay Nishad represent Apna Dal (Sonelal) and Nishad Party, the two allies of the BJP.
Besides, another leader and former Uttarakhand governor Baby Rani Maurya has been made a cabinet minister.
Meanwhile, the CMs of different BJP ruled states, including Madhya Pradesh, Uttarakhand Assam, Manipur, Haryana etc, were also present at the gala swearing in ceremony, which was attended by about 75,000 people.
Other dignitaries included union home minister Amit Shah, defence minister Rajnath Singh, BJP president J P Nadda, union ministers Anurag Thakur, Smriti Irani, Gen V K Singh etc.
The BJP-led alliance had won 273 of 403 seats in the 2022 UP assembly polls. While the BJP won 255 seats, its allies Nishad Party and the Apna Dal (S) together bagged 18 segments.