Help farmers with tech amid climate change challenges: Tomar
Union Agriculture Minister Narendra Singh Tomar has stressed the need to reach out to all farmers with new technologies and research amid the challenges of climate change. He said this while addressing the 94th Annual General Meeting of the Indian Council of Agricultural Research (ICAR) Society in New Delhi on Friday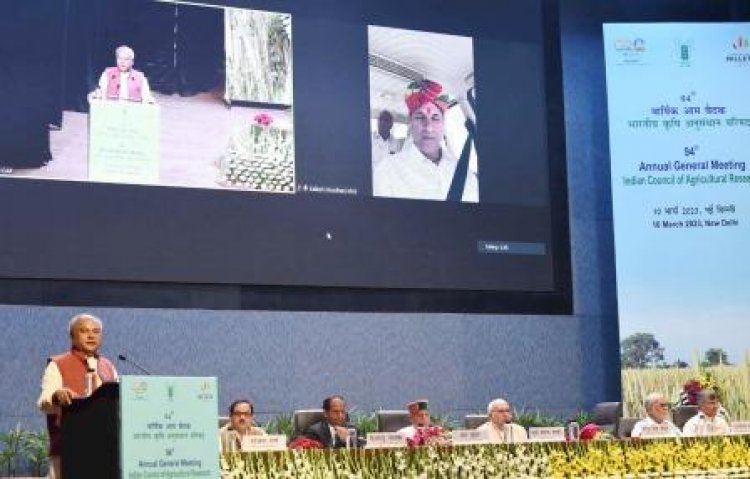 Union Agriculture Minister Narendra Singh Tomar has stressed the need to reach out to all farmers with new technologies and research amid the challenges of climate change.
He said this while addressing the 94th Annual General Meeting of the Indian Council of Agricultural Research (ICAR) Society in New Delhi on Friday.
Tomar said agriculture is the backbone of the Indian economy and the sector must be further developed.
"Various challenges like Climate Change are before us today. We are also facing the challenge of damage caused to the standing crops of the farmers due to natural disasters. In new India, we have to reach out to all the farmers with new technology and research," he said.
He lauded the contribution of the ICAR scientists in boosting the farm sector so far and said more research efforts are required to make a new India by 2047.
The minister also said India's supremacy in the farm sector is increasing all over the world and even expectations are also rising, according to an official statement.
On the agriculture export front, Tomar said organic and natural farm products are going to be popular in the world in the coming years. The focus should be on quality production with global standards.
Tomar also said production and consumption of millet are on the rise.
Union Minister for Fisheries, Animal Husbandry and Dairying Parshottam Rupala praised the commendable effort put forth by ICAR in developing an indigenous vaccine Lumpi-ProVac for defence against the Lumpy Skin Disease afflicting a large cattle population in the country.
Niti Aayog member Ramesh Chand expressed satisfaction that the country's foodgrains production growth rate is faster than the country's population growth rate and that the momentum should accelerate.
He called upon the ICAR to focus its efforts on the 12 crops witnessing declining production over the years, including cotton that supports the textiles industry, besides Soyabean, Tur and Urad pulses and oilseeds, particularly Safflower.
ICAR Director General Himanshu Pathak said ICAR has released 323 varieties of field crops, including 266 climate-resistant variants.
ICAR Institutes have also developed several vaccines, including the H9N2 Influenza vaccine for chickens and the vaccine for the prevention of SARS-CoV2 infection in animals.