FICCI, Corteva Agriscience host event on Millet roadmap
The discussion also considered establishing a comprehensive understanding of the benefits and possibilities that millets can offer to both sustainable tourism and the livelihoods of local communities. "Rajasthan with its diverse range of millet offerings in every region, should be promoted as a culinary destination. There is a tremendous opportunity to leverage millets in the tourism industry."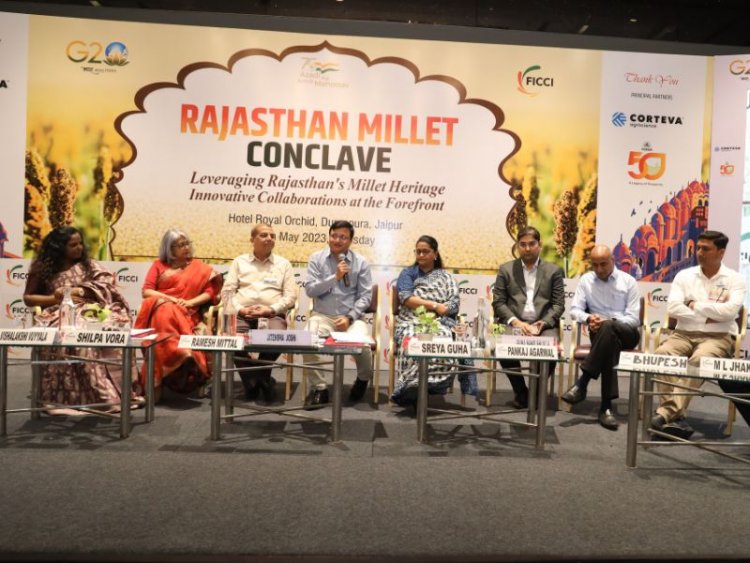 millet conclave
Trade body FICCI in partnership with Corteva Agriscience, organised a millet conclave - 'Leveraging Rajasthan's Millet Heritage' in Jaipur recently to showcase the strengths of Rajasthan in millets production and foster a meaningful dialogue amongst diverse stakeholders to create a future roadmap to establish the state as a prominent hub for millets.
As the Chair of the task force, Corteva Agriscience will spearhead the Millet Roadmap initiative by the Rajasthan Government to accelerate the growth of the millet sector, says a press release. Delegates representing agribusiness, hospitality & tourism, policymakers, eminent scientists from renowned research institutions, progressive farmers and academia participated in the conclave. The panellists deliberated to take a holistic and multi-dimensional approach to address critical challenges in the millet value chain and catalyse an impactful partnership.
The discussion also considered establishing a comprehensive understanding of the benefits and possibilities that millets can offer to both sustainable tourism and the livelihoods of local communities. "Rajasthan with its diverse range of millet offerings in every region, should be promoted as a culinary destination. There is a tremendous opportunity to leverage millets in the tourism industry." said Shreya Guha, Principal Secretary, Government of Rajasthan.
She added, "There is immense potential for startups and entrepreneurs to develop innovative recipes and products using millets, specifically targeting children, pregnant women, and lactating women. Millets have always been an integral part of Rajasthan's traditional diet, and the state is the leading producer of 'bajra'. Millets require fewer resources, including water and land, making them an economically beneficial product for the country."
Commenting on the event, Jitendra Joshi, Chairman, FICCI Task Force on Millets & Director Seeds, Corteva Agriscience - South Asia said, "Rajasthan, as the largest contributor to India's millet production, holds the key to the success of millet initiatives in the International Year of Millets 2023. Millets have proven to be a climate-resilient crop for rainfed areas, enhancing farmers' income and supporting sustainable agriculture while providing nutritious food for the entire nation. Furthermore, millets open doors to new economic prospects for agribusinesses.
Corteva's India Research Centre in Jaipur runs rainy millets, summer millets and mustard breeding program. In addition, the Antrashtriya Bajra Mahotsav held across the state aim to spotlight ecological benefits and nutritional value of millets to producers and consumers.
The company continues to focus on educating millet farmers about the use of technology-driven solutions that enable them to increase yield productivity and sustainable farming practices.