Know your onions: Cheers to govt, tears to farmers
For the government and the consumers, it could be a win-win situation as both are happy that onion prices will be low this year and will not bring tears to their eyes. But, onion farmers are keeping their fingers crossed, in fact many of them are shedding tears, particularly those who have stored their produce since May this year, expecting better prices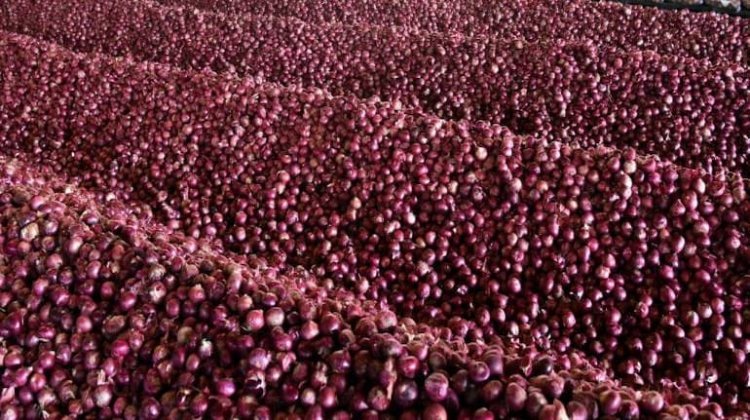 For the government and the consumers, it could be a win-win situation as both are happy that onion prices will be low this year and will not bring tears to their eyes. But, onion farmers are keeping their fingers crossed, in fact many of them are shedding tears, particularly those who have stored their produce since May this year, expecting better prices.
They are disappointed and are selling their best quality stored onion at a throw away price.
Onion has become a political crop and any party in power is keen on keeping the onion prices low.
The government has given subsidies to farmers on constructing storage facilities for onions. The intention, farmers thought, was that they could hold their onion till they got higher prices. But now it's evident that this subsidy was not for farmers but for consumers so that they are assured of year-round supply of onion at a lower rate.
During the harvesting season of onions, when there is a surplus, the government intervenes and purchases onion through NAFED. It's called the price stabilisation fund.
Even though onion is included in the essential commodity list, no MSP is fixed for onion. Fixing MSP is mandatory for all crops included in the Essential Commodities Act but onion, being a perishable commodity, doesn't have an MSP.
Onion is purchased at the prevailing market price by notified agencies. These agencies buy onions from the traders at a very low price but the billing is done at a higher price.
Huge corruption is involved in purchase and sale of this procured onion. A buffer stock is created to stabilise prices when the prices rise but farmers are not benefitted when prices fall. Now when the prices of onion were on a rise and farmers hoped to get prices above Rs 20 per kg, NAFED has flooded the market with their stocks, reducing the prices by almost Rs 10.
The cost of production of onion this year is almost Rs 20 a kg. Holding onion for 4 to 5 months adds Rs 5 more to the cost. Since the shelf life of onions has crossed limits, farmers are compelled to sell their produce at whatever price prevails.
The government has always intervened in onion trade by imposing stock limits, restricting interstate movement of onion, raising MEP or banning export of onion.
These actions have always been pro-consumer, hurting the interest of farmers. The solution to ensure regular supply of onion to the consumers and reasonable prices to the farmers is, the government should stop indulging in onion trade. Let the market and traders decide whether to export or import onion and at what price it should be sold at.
India produces more than twice the domestic requirement of onion. There is no alternative than exporting onions.
We have reduced our share in the international onion market. Reducing it to 8.5% which was almost 40% some years ago. We are losing major importing countries because of this flip-flops flop policy regarding onion export. This has encouraged our competitors too. Surplus onions can be absorbed in the processing units but no one dares to invest in onion related processing units fearing the unpredictable policy of the government of India.
The consumers and the ruling party at the Centre may be happy, but the onion producing farmers of this country are in tears. We have to think about their families and their livelihood too.
(ANIL GHANWAT is National President of Swatantra Bharat Party. He is former President of Shetkari Sanghatna and former President of Swatantra Bharat Paksha)