UP Budget: Focus on agri, Rs 750 cr for maintenance of stray cattle
The Uttar Pradesh government on Wednesday proposed in its 2023-24 Budget an amount of Rs 631.93 crore for National Mission for Sustainable Agriculture, Rs 113.52 crore for National Mission on Natural Farming, and Rs 1,950 crore for supply of electricity to private tube wells for farmers at subsidised rates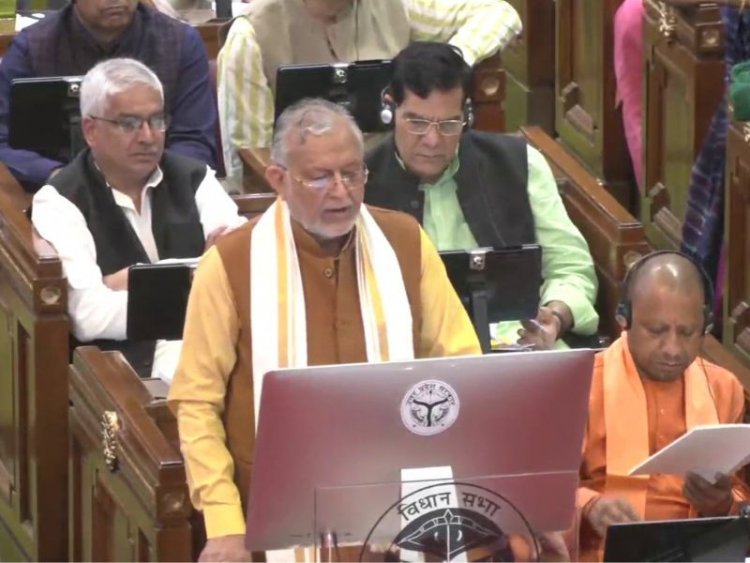 The Uttar Pradesh government on Wednesday proposed in its 2023-24 Budget an amount of Rs 631.93 crore for National Mission for Sustainable Agriculture, Rs 113.52 crore for National Mission on Natural Farming, and Rs 1,950 crore for supply of electricity to private tube wells for farmers at subsidised rates.
It also earmarked Rs 984.54 crore for National Agriculture Development Scheme, Rs 753.70 crore for National Crop Insurance Scheme, Rs 55.6 crore for the implementation of UP millets revival programme.
The budget also proposed Rs 102.81 crore for Pandit Deen Dayal Upadhyay Kisan Samriddhi Yojana, Rs 100 crore for Self-reliant Farmer Integrated Scheme, Rs 15 crore each for pulses and oilseeds seed minikit distribution scheme.
For agricultural education and research to increase income of farmers, an arrangement of Rs 20 crore has been made for the agritech startup scheme in 4 agricultural universities of the state.
While Rs 50 crore has been proposed for the establishment of Mahatma Buddha Agricultural and Technological University in Kushinagar, Rs 35 crore has been given for infrastructure works in agricultural universities of Kanpur, Ayodhya, Banda and Meerut.
The budget proposed Rs 86.95 crore for the scheme to strengthen and revive the existing milk unions and Rs 61.21 crore for the implementation of Nand Baba Milk Mission besides Rs 60 crore for dairy projects in Meerut and Varanasi districts.
Under the Uttar Pradesh Dairy Development and Milk Product Promotion Policy, 2022, a budgetary arrangement of Rs 25 crore has been made for providing financial grants, concessions and other facilities to the units of the milk industry to be established in the state.
An arrangement of Rs 116.52 crore has been made for the prevention of animal diseases while Rs 3.44 crore has been earmarked for sheep-rearing scheme in districts where sheep are the predominant livestock.
Under Pradhan Mantri Matsya Sampada Yojana, provisions of Rs 257.50 crore for wholesale fish market, Rs 741.98 crore for Pradhan Mantri Formalisation of Micro Food Processing Enterprises, Rs 206.27 crore for National Horticulture Mission have been made.
The budget also proposed Rs 100 crore for the implementation of Uttar Pradesh Food Processing Industry Policy, 2022.
For farmers, in the past budget, the government gave them a subsidy of 50 per cent in electricity for irrigation, but this has been increased to 100 per cent in a systematic way for future.
Besides, Rs 750 crore has been earmarked for maintenance of stray cattle and Rs 120 crore for establishment of cow protection centres.
The state Budget also proposed 17,000 'Kisan Pathshalas' and allocated funds for subsidised electricity supply to private tube wells and agriculture universities. Out of 187 proposed cow protection centres in all districts of the state, the construction work of 171 centres has been completed.
The annual budget aims to lay the foundation for a self-reliant Uttar Pradesh and focus on the all-around development of the state for making it a USD 1 trillion economy.
The budget of Rs 6,90,242.43 crore for FY24 was the biggest in the state's history.
"This budget was for 'Atmanirbhar Uttar Pradesh'. It will prove to be a milestone for making the state's economy USD 1 trillion," Chief Minister Yogi Adityanath said, adding that in the past six years, the government ensure 'sabka saath, sabka vikas, sabka vishwas, sabka prayas' (Together, everyone's development, trust and effort).
He said his government's first budget in 2017 was dedicated to farmers, budget in 2018 for infrastructure and industrial development, 2019 for women empowerment, 2020 for youth power, employment and infrastructure development, 2021 for self-reliance and empowerment, 2022 'from antyoday' to 'atmanirbhar' (self-reliance).
He said that while Ayodhya will be developed as a model solar city, the number of active airports in the state will go up to 21 in the days to come. For the metro in Varanasi, Gorakhpur and other cities, a provision of Rs 100 crore has been made, while construction work of expressways will also be accelerated, he noted.
UP finance minister Suresh Kumar Khanna told reporters that this was the biggest budget in the history of Uttar Pradesh.
Last year, the state government presented an annual budget of Rs 6.15 lakh crore for 2022-23. A supplementary budget for Rs 33,769.55 crore was presented in December 2022, taking the total size of the budget to about Rs 6.50 lakh crore.