Fertiliser cooperative KRIBHCO's turnover jumps 95 pc to Rs 25,715 cr in FY23, declares 20% dividend
Fertiliser cooperative Krishak Bharati Cooperative Ltd's (KRIBHCO) total income jumped 95 per cent to Rs 25,715.07 crore during last fiscal on better sales, and it declared a dividend of 20 per cent. It's total income stood at Rs 13,194.50 crore in the previous year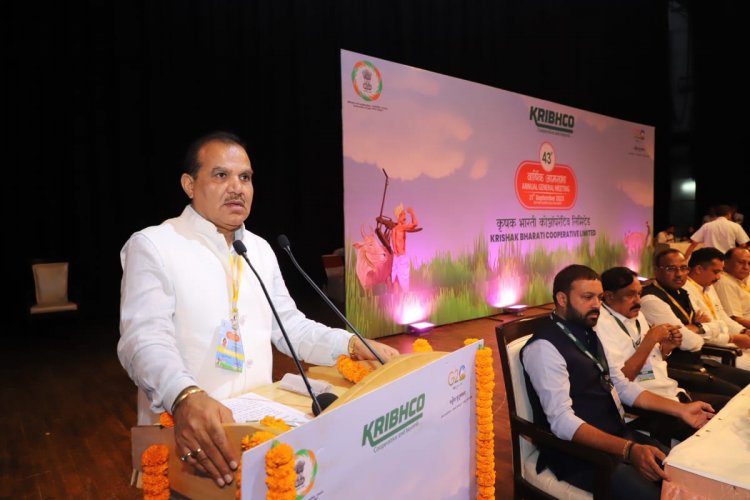 Dr Chandra Pal Singh, Chairman, KRIBHCO addressing 43rd annul general meeting
Fertiliser cooperative Krishak Bharati Cooperative Ltd's (KRIBHCO) total income jumped 95 per cent to Rs 25,715.07 crore during last fiscal on better sales, and it declared a dividend of 20 per cent. It's total income stood at Rs 13,194.50 crore in the previous year.
Addressing its 43rd annual general meeting (AGM) in New Delhi on Thursday, KRIBHCO Chairman Chandra Pal Singh said the cooperative earned a pre-tax profit of Rs 763.16 crore in 2022-23. The cooperative has declared a dividend of 20 per cent on equity capital for the year and the management has approved Rs 77.68 crore for dividend outgo, Singh said.
The net worth of KRIBHCO increased to Rs 5,128.61 crore last fiscal year from Rs 4,643.10 crore in FY22. "The total membership of KRIBHCO consists of 9,470 cooperative societies. The paid up share capital of the society was Rs 388.62 crore as on 31st March, 2023," Singh said.
KRIBHCO's urea production during 2022-23 was 22.21 lakh tonne and ammonia production was 13.24 lakh tonne with 101.20 per cent and 106.16 per cent capacity utilization, respectively. It sold 57.08 lakh tonne of fertilizers (urea as well as complex fertilizers) during 2022-23.
KRIBHCO Fertilizers Ltd (KFL), a wholly-owned subsidiary of KRIBHCO, produced the highest ever quantity of 10.95 lakh tonne of urea and 6.74 lakh tonne ammonia with capacity utilization of 126.65 per cent and 134.30 per cent, respectively.
Rajan Chowdhry, Managing Director, KRIBHCO, informed that KRIBHCO has maintained the highest standards of achievement in terms of production and other parameters. He also said KFL has performed well and declared a dividend of 6 per cent.
To diversify its operations, KRIBHCO has incorporated two wholly-owned subsidiaries namely KRIBHCO Agri Business Ltd (KABL) and KRIBHCO Green Energy Pvt Ltd.
In its very first year of operation, KABL has achieved a turnover of Rs 200 crore. KRIBHCO Green Energy is constructing three bio-ethanol plants at Hazira, Nellore and Jagtial in Gujarat, Andhra Pradesh and Telangana, respectively.
KRIBHCO honoured two eminent cooperators for their enormous contribution in the field of cooperation in the country. KRIBHCO Sahakarita Shiromani award was conferred upon K Srinivasa Gowda from Karnataka and KRIBHCO Sahakarita Vibhushan award was conferred upon Jayeshbhai Radadiya from Gujarat.